The Lyst Index is a quarterly ranking of fashion's hottest brands and products.
To compile the results, global fashion search platform Lyst analyzes the online shopping behavior of more than five million shoppers a month searching, browsing and buying fashion across 12,000 designers and stores online. The formula behind the Index takes into account global Lyst and Google search data, conversion rates and sales, as well as brand and product social media mentions and engagement statistics worldwide over a three month period.

Q2 2019
Hottest brands
Q1 2019
Beyoncé and Rihanna: The Most Powerful Forces in Fashion
31%
Increase in searches for Adidas this quarter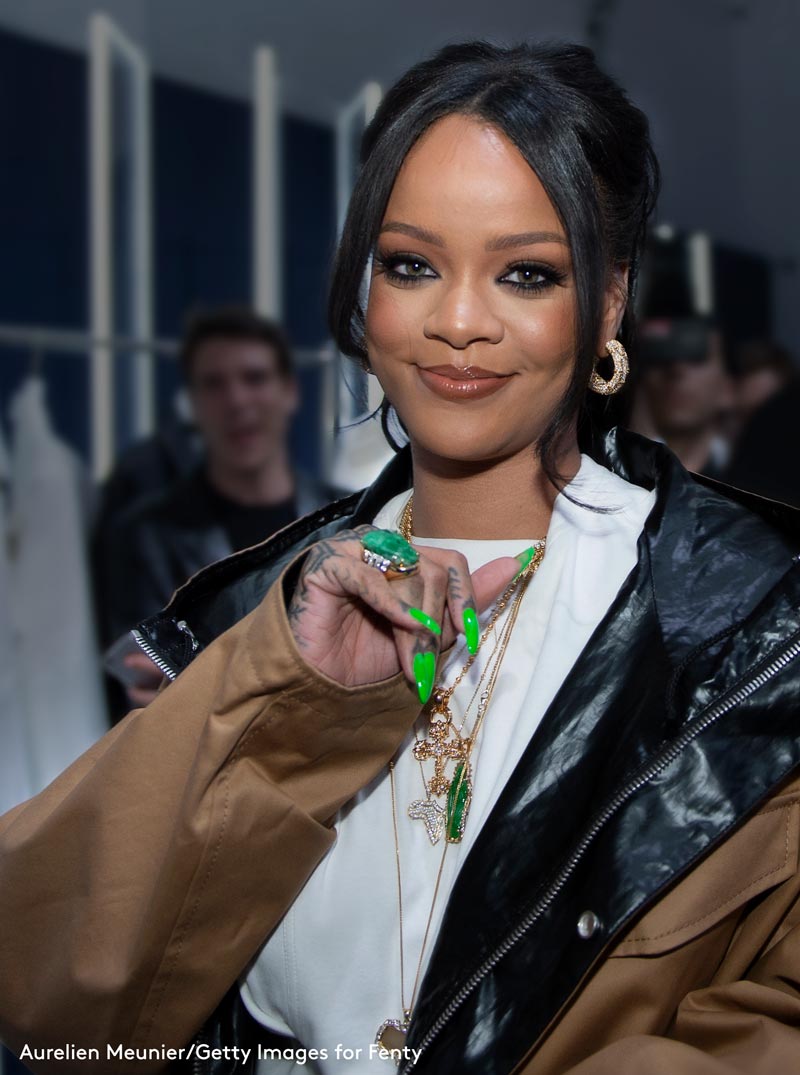 This quarter, the fashion industry bowed down to two trailblazing women. Robyn Rihanna Fenty and Beyoncé Knowles-Carter were the driving forces behind the most powerful fashion brand moments of the year so far. In April, Beyoncé revealed that she was working with Adidas on a multi-layered partnership, co-creating new performance and lifestyle products alongside relaunching her Ivy Park athleisure brand. After she announced the collaboration on Instagram, Adidas' social impressions grew by 61% within 24 hours, global searches for Beyoncé x Adidas spiked 2,700%, and Ivy Park moved 140 positions up the Index. Global searches for Adidas increased 31% over the quarter, and the brand has moved 3 places up the Index into 16th position.
Just two weeks later, Rihanna became LVMH's first black female designer, with the official announcement of the launch of Fenty maison, a new luxury fashion house. While Fenty's online distribution model makes it impossible to track sales data as part of the Lyst Index formula, the brand has already generated enough social heat to make it a serious contender for the hottest brands list. In its first month of operation, the new luxury house generated more than 5,000 media articles from around the world and over 7 million social media impressions. Described by LVMH as a "luxury brand for the 21st century" that "epitomises both the spirit of Rihanna and a new approach to modern luxury," Fenty's inclusive take on luxury fashion has delivered major marketing impact. A cast of diverse models and influencers, "see-now-wear-now" strategy, limited-edition product drops and the pop-up boutiques in key locations have kept Fenty front of mind with media worldwide this quarter. Will Rihanna's profile and Fenty's initial brand buzz drive meaningful sales and enduring brand loyalty with the new luxury consumer?
Embracing diversity remains a key initiative for the brands in the Index. Nike debuted new body- diverse mannequins, and Dolce & Gabbana became the first luxury label to extend its sizing to a UK 22 / US 20. Sustainability also played an important role over the past three months: Prada joined the anti-fur movement, Burberry pledged to reduce its greenhouse gas emissions, and Adidas released a fully sustainable collection in partnership with Stella McCartney. Meanwhile, Gucci, Balenciaga and Saint Laurent all pledged to stop using models under the age of 18.
Climbing back into the top spot, Gucci has once again reclaimed number one position in the Index, overtaking Off-White and Balenciaga and becoming the world's hottest fashion brand for the fifth time over the past two years. Despite only being responsible for 1 out of 20 products in the hottest products lists this quarter, the Italian house's core customer base continues to grow worldwide. Gucci's impactful brand moments of the quarter included a politically charged Cruise collection featuring embellished uteruses and new campaigns with Harry Styles, which contributed to the global success of the label.
Hottest products
To find the world's hottest products, Lyst's formula filters six million items by volume of social media mentions, searches, page views, interactions and sales across thousands of online stores. We group colors for styles, and take into account global demand per volume of stock available.

Q2 2019
Hottest women's products
Off-White ℅ Virgil Abloh 1.4 Jitney bag

Teva Hurricane XLT2

Chloé C mini croc-effect leather shoulder bag

Adidas Originals + Ji Won Choi striped stretch-jersey bodysuit

Bottega Veneta The Pouch

Topshop strippy sandals

Onia x WeWoreWhat one piece

Ralph Lauren tie dye polo t-shirt

Isabel Marant Tundra boiler suit

LoveShackFancy Angie silk dress
The Next Generation It Bags
Off-White's Jitney 1.4 "Cash Inside" bag is the world's hottest fashion product this quarter. Part of the Pre-Fall collection, inspired by the Hampton Jitney bus line, demand was building weeks before its actual release on June 14th; it then sold out across multiple retailers in a matter of days. In third position, Chloé's C mini croc effect shoulder bag quickly became a new addition to the brand's stellar catalogue of "It bags." The C was the most-viewed product for the French house this quarter, responsible for driving a 900% quarter on quarter increase in global searches for the brand.
Bottega Veneta's "The Pouch" takes the fifth spot in the Hottest Women's Products list. Designed by the brand's new Creative Director, Daniel Lee, the minimalist clutch has discreetly been taking over Instagram, constantly selling out and sparking more than 10,000 views a month since its launch. Lee's takeover has turned Bottega Veneta into one of the most talked-about fashion brands of the year, inspiring the creation of the Instagram account @newbottega, a tribute to his designs reminiscing of the @oldceline account dedicated to Phoebe Philo's time at Céline. This quarter, Bottega Veneta climbed 8 places in the Index's Hottest Brands ranking.
This quarter's hottest women's shoes come from opposing ends of the style spectrum. Teva's functional Hurricane XLT2 sandals are the Summer continuation of the unstoppable march of the 'ugly' shoe trend. Entering the Index as the second hottest product, they retail at an affordable $85, with searches for Teva Hurricane up 350% globally over the last three months. Meanwhile, Topshop's elegant 'Strippy' sandal is the sixth hottest women's product. Barely-there sandals are a breakout trend across all price points, responsible for thousands of searches worldwide this quarter. While strappy sandals from The Row, Staud and By Far are also amongst the most-searched styles, Topshop's affordable take on the trend has delivered the most sales to date. Demand for this type of shoe was up 352% this quarter, with "strappy" being the most searched-for keyword paired with sandals.
The combined force of mass-Influencer product placement continues to create new cult products. Ralph Lauren's tie-dye polo t-shirt is the 8th hottest piece of the quarter; as seen on Gigi Hadid, Adwoa Aboah, and Nina Suess, the brand's collection of acid-hued psychedelic twirls has been a hit since its launch. With both Kylie Jenner and Khloé Kardashian posting in an Onia x WeWoreWhat Danielle cow-print swimsuit on Instagram, searches for the brand grew by 33% in the following weeks; the exact swimsuit is now completely sold out in every single style and colour that it comes in. When Beyoncé shared a photo of herself wearing the Adidas x Ji Won Choi striped jersey bodysuit on Instagram, searches for red bodysuits spiked 183%; the exact Adidas piece, which retails at $56, has been sold out ever since.

Q2 2019
Hottest men's products
Yeezy Boost 350 V2 static black reflective

Adidas Originals Beckenbauer All Round sneakers

Prada banana and flame-print shirt

Adidas x Raf Simons Ozweego 'Metallic Silver

Off-White Odsy-1000

Prada nylon bucket hat

Gucci GG jacquard swim shorts

Nike Air Force 1 Earth Day Pack

Rimowa original 21inch multiwheel® trolley

Palazzo Medusa pool slides
Riding the Wave of Luxury Beach Wear
Seasonality played an important role in this quarter's Hottest Men's Products list, which includes numerous updated takes on vacation essentials. Luxury beachwear is becoming an increasingly powerful menswear category, with demand growing worldwide in terms of both search and sales. Prada's playful take on the Hawaiian shirt is the viral menswear hit of the Summer so far. Retailing at $1,790 and championed by everyone from Jeff Goldblum to Pusha T, the banana and flame-print shirt is the third hottest men's product this quarter. It inspired over 155,000 searches for Prada printed shirts over the three month period, with global searches for Prada shirts up 36% in June. Prada has moved up one place in the Hottest Brands list into 5th position. Shoppers are also searching for luxury pool-side accessories, with Prada's bucket hat, Gucci's swim shorts and Versace's slides ranking amongst the world's hottest men's products. Searches for slides, swim shorts and bucket hats were up 32%, 51% and 64% this quarter respectively.
Meanwhile, a suitcase has entered the Index for the first time, in ninth position. Endorsed by many celebrities including Jessica Alba, Jason Statham, Virgil Abloh, and US basketball star LeBron James, heritage luggage brand Rimowa has transitioned into a luxury fashion proposition thanks to a series of high-profile fashion collaborations with Supreme and Off-White. Averaging 80,000 monthly searches, Rimowa is the most searched-for luggage brand on Lyst this year; with search volume spiking 37% in June. With a market value forecasted to reach $22.11 billion in 2019, a new generation of luxury travel bags are re-energising this established product category. Contemporary brands Away, Crash Baggage and Ookonn are also stimulating global demand thanks to more high-tech designs that are appealing to millennial customers.
Footwear remains the most powerful menswear category for the second quarter of 2019, with 6 of the 10 hottest men's products being shoes. In June, Adidas continued to fuel the unstoppable hype behind its ongoing collaboration with Kanye West by dropping the Yeezy Boost 350 V2 in the new "black static" colourway, which sold out within days on Lyst. The design's resale price is now 536% over its original $220 retail price. General demand for Adidas sneakers was up 336% compared to last year. Meanwhile, Nike successfully touched on customers' desire for more sustainable footwear options by releasing the eco-friendly Air Force 1 "Earth Day" sneakers. With over 2.7M searches a month for Nike Air Force 1 sneakers, the latest model quickly sold out on Lyst across multiple retailers.
To request information or images relating to the Lyst Index please contact press@lyst.com
Sign up here to receive the next instalment direct to your inbox.