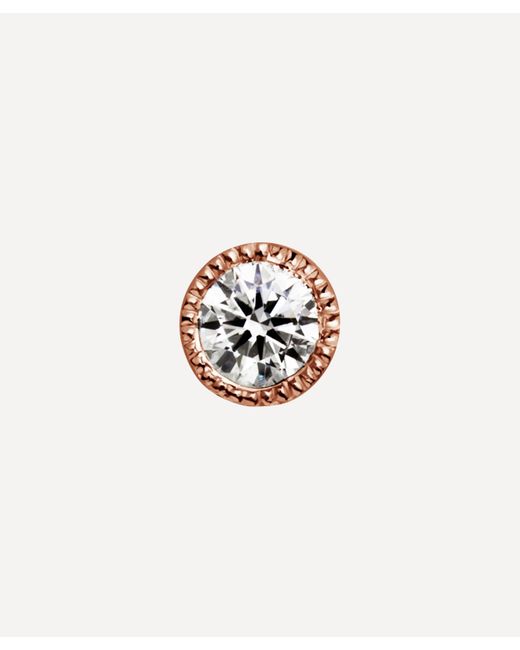 Women's Metallic 2.5mm Scalloped Diamond Thread Through Single Earring
All shipping & returns info
Free shipping with Liberty London.
Product details
This Maria Tash single earring showcases a diamond set in a beautiful scalloped edge bezel cup. The fine detailing of the gold metal around the diamond gives the piece a Victorian/antique feel, and differentiates it from the plain bezel without adding any extra width or height. The flat edge of the bezel prevents the creation of a cratering effect in the piercing caused by many V shaped prong settings, and is very low profile for the size of the stone. Handcrafted in 18-karat yellow gold. Detailed in diamond. Diamond totals 0.07 carats (VS2/G). Measures 2.5mm in diameter. Thread Through Post measures 5/16-in. Long. Finished with a thread through post. Finished with a thread through post. Slide post through back of ear piercing until it comes through the front of ear. Hold the post with one hand, and with your other hand, carefully take the front half of the earring (it is very short! Insert the thread into the post. Turn until earring is fastened securely. Color: metallic
From Liberty London
18ct 2.5mm Scalloped Set Diamond Single Threaded Stud Earring
A signature Maria Tash design, this single diamond stud earring makes a sound addition to any ear curation. Available in multiple variations of high-polished 18 carat gold, this understated stud features a tiny 0.07-carat white diamond in a classic bezel setting, with intricate milgrain edging adding a subtly scalloped effect. Complete with the brand's signature flower threaded backing, it styles beautifully in a range of lobe and cartilage piercings - team it with several other single diamond studs for a dazzling dewdrop effect.