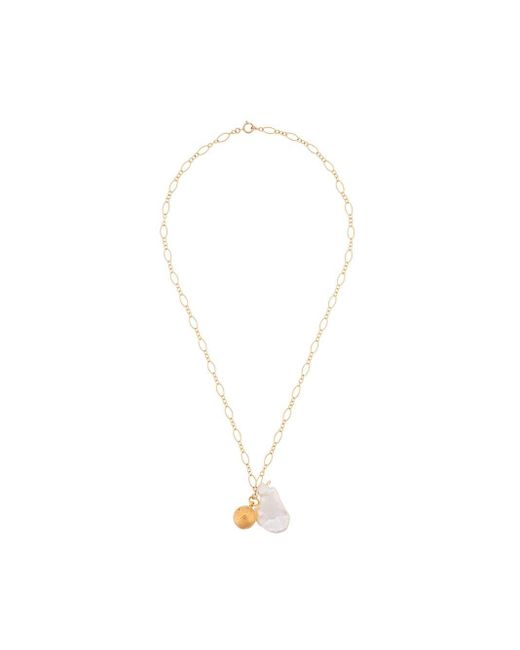 All shipping & returns info
Free shipping with FARFETCH on orders over $145.
Product details
Inspired by Dante Alighieri's Divine Comedy (that's a super long Italian narrative poem, in case you didn't know), Alighieri was thought up when founder Rosh Mahtani looked for solace in Dante's work. The result? The Moon Fever necklace. Crafted in 24 carat gold plate bronze, it's complete with dangling freshwater cornflake pearl and gold plate charm, and is crafted in London (Hatton Garden, to be exact). Alighieri gold plated bronze necklace24ct gold plated bronze. Freshwater pearl. Spring ring clasp fastening. Rolo chain, pearl pendant at drop, ball pendant at drop, antique finish, hand crafted. Largest pendant measures: 23 x 15mm. Chain length: 45cm. Please use a soft, dry polishing cloth. Made in London. Color: metallic
From FARFETCH
Moon Fever Necklace
From Alighieri's 'The Museum of Memories' collection, this beautiful 24kt yellow gold plated brass The Moon Fever necklace features a figaro chain, a spring-ring fastening, a round charm and a freshwater pearl. POSITIVELY CONSCIOUS: ALIGHIERI scores 4 out 5 by independent ethical brand rating agency Good On You. It uses eco-friendly and recycled materials, manufactures locally to reduce its carbon footprint, traces most of its supply chain and visits suppliers regularly.
From MONNIER Paris
The Moon Fever Necklace In Gold Plated Bronze And Freshawater Pearl
Necklaces Material : bronze Colour : Métallisé - Gold.