The Lyst Index is a quarterly ranking of fashion's hottest brands and products.
To compile the results, global fashion search platform Lyst analyses the online shopping behaviour of more than nine million shoppers a month searching, browsing and buying fashion across 12,000 designers and stores online. The formula behind the Index takes into account global Lyst and Google search data, conversion rates and sales, as well as brand and product social media mentions and engagement statistics worldwide over a three month period.

Q3 2019
Hottest brands
Q2 2019
1

Off-White

Virgil Abloh announced he would be taking some time off for health considerations. Farfetch purchased New Guards Group which operates Off-White for $675 million.

2

2

Balenciaga

Balenciaga released its F/W '19 campaign featuring real-life couples, and launched paper-bag inspired phone holders. The "Balenciaga: Shaping Fashion" exhibition opened in Australia.

3

3

Gucci

Harry Styles became the face of Gucci's first gender fluid fragrance, and the brand unveiled a fine jewellery collection. A Global Head of Diversity, Equity and Inclusion joined, and a model made headlines for writing a protest slogan on their hands at the S/S '20 show.

1

4

Versace

Jennifer Lopez closed the Versace S/S '20 show in a re-edition of the iconic jungle dress that inspired Google to launch image search. Donatella Versace became a Stonewall Ambassador and celebrated Pride in NYC.

5

5

Prada

Prada's profits jumped nearly 50% in the first half of 2019. The brand debuted a recycled 'Re-nylon' bag, and announced it would be holding another 'Shaping the Future' conference on ethics in the workplace.

5

6

Valentino

Adut Akech and Anwar Hadid became the brand's new faces. Pieces from the Valentino x Undercover collaboration launched, and the house announced it would be holding its next couture show in Beijing.

4

7

Fendi

Fendi paid homage to Karl Lagerfeld during its couture show. The house announced a collaboration with Nicki Minaj, launched the men's Baguette bag and unveiled a Chinese Valentine's Day collection.

7

8

Burberry

Saint Laurent teamed up with Google to release a "smart" backpack, launched a pair of $65 flip flops with Havaianas, and unveiled a new fragrance with singer Dua Lipa.

12

9

Saint Laurent

Saint Laurent teamed up with Google to release a "smart" backpack, launched a pair of $65 flip flops with Havaianas, and unveiled a new fragrance with singer Dua Lipa.

10

10

Vetements

Demna Gvasalia stepped down from Vetements. The brand showed its S/S '20 collection in a Paris branch of McDonald's and released a hoodie with the slogan "It's my birthday and all I got was this overpriced hoodie from Vetements".

11

11

Stone Island

Stone Island collaborated with Nike Golf, and opened a childrenswear store in Milan. The brand announced it would be displaying archive pieces at an exhibition in Tokyo.

8

12

Nike

Nike's revenue rose 7% to almost $11 billion. The brand launched a sneaker subscription service for kids and pledged to use 100% renewable energy by 2025. A rare pair of Nike sneakers sold at Sotheby's for $437,500.

9

13

Givenchy

Givenchy released a video for its F/W '19 campaign featuring Ariana Grande, and announced South Korean singer Kang Daniel as a new face of Givenchy Beauty.

14

14

Dolce & Gabbana

Moncler posted an 18% revenue increase in the second quarter. The label announced Will Smith as the face of the Genius Is Born Crazy campaign and released the Simone Rocha x Genius collection.

17

15

Dolce & Gabbana

Dolce & Gabbana became one of the first European luxury brands to extend its women's collection up to size UK 22. The house showed its Alta Moda collection and released a new fragrance.

13

16

Bottega Veneta

A year after Daniel Lee became Creative Director, Bottega Veneta enters the Index for the first time. The brand's shoes and bags were worn by many of the attendees at the S/S '20 shows, while the 'New Bottega' Instagram fan account has a cult following.

37

17

Alexander McQueen

Alexander McQueen unveiled its F/W '19 campaign featuring Kate Moss. Beyoncé wore the brand to the world premiere of The Lion King, and the oversize sole sneakers continue to drive significant sales.

22

18

Moschino

Jeremy Scott presented the brand's S/S '20 collection inspired by Pablo Picasso. Moschino premiered its F/W '19 campaign inspired by Dynasty, and released its Moschino x The Sims capsule collection.

18

19

Balmain

Balmain announced it would no longer use fur, and Creative Director Olivier Rousteing joined Instagram's "Shopping From Creators" program, allowing fans to shop the brand's pieces through his social media feed.

20

20

Loewe

Killing Eve's Jodie Comer was named as the face of Loewe's S/S '20 campaign. The brand's sneakers and popular wicker bags boosted demand this quarter, pushing it into the Index hottest brands list for the first time.

27
Lifting the Lid on The Lyst Index
In the two years since The Lyst Index launched, three brands have appeared every quarter: Balenciaga, Gucci, and Vetements – with Balenciaga and Gucci consistently placing among the top three brands. Off-White and Valentino have made the hottest brands list for every Index bar one.
While brands rise and fall, with Bottega Veneta and Loewe being two new additions this quarter, the hottest brands form an exclusive club: to date, just 25 brands have made the cut. 80% of the brands from the first edition of The Lyst Index are still in the report, and on average fewer than two new brands join the ranks each quarter.
So what does it take to become one of the 20 hottest brands in the world? Beyond creating desirable collections and products that are widely promoted and sold, capturing consumers' imagination, this quarter we deep dive into two years of data from The Lyst Index to reveal the attributes and strategies shaping the 20 hottest brands.
People & places
65% of the top 20 brands' creative directors have a public social media presence, with an average of 2 million followers each. The most followed is Balmain's Olivier Rousteing with 5.5 million Instagram followers, although several including Bottega Veneta's Daniel Lee and Alexander McQueen's Sarah Burton eschew public profiles. This quarter, social mentions spiked around Demna Gvasalia announcing his departure from Vetements, and Virgil Abloh taking some time away from Off-White. This suggests consumer interest in the designers behind the brands remains high.
The average age of the top 20 brands' creative director is 47 – Miuccia Prada is the oldest at 70, and Bottega Veneta's Daniel Lee is the youngest at 32 – and on average they have held the role for 11 years. Currently, just 25% of the top 20 brands have female creative directors, and 90% of the creative directors are white. Addressing diversity and inclusion is a priority among the top 20, with Kering recently appointing a Chief Diversity, Inclusion, and Talent Officer. The average tenure of a CEO in the top 20 brands is slightly shorter than the creative directors at 9.5 years, and 15% are female.
The majority of this quarter's top 20 brands are based in Italy (50%) or France (25%). Five are located elsewhere: Alexander McQueen and Burberry (UK), Loewe (Spain), Nike (US) and Vetements (Switzerland). All of the top 20 brands show collections at Milan or Paris Fashion Week, with three exceptions: Burberry, which shows at London Fashion Week, and Nike and Stone Island, which don't hold regular fashion shows.
With the exception of Vetements and Off-White, at five and seven years old respectively, many of this quarter's top 20 brands have decades of heritage. 20% is more than 100 years old, while 45% are 50-100 years old. But the youngest of the group, Vetements, has made the hottest brands list for every Index.
Product & pricing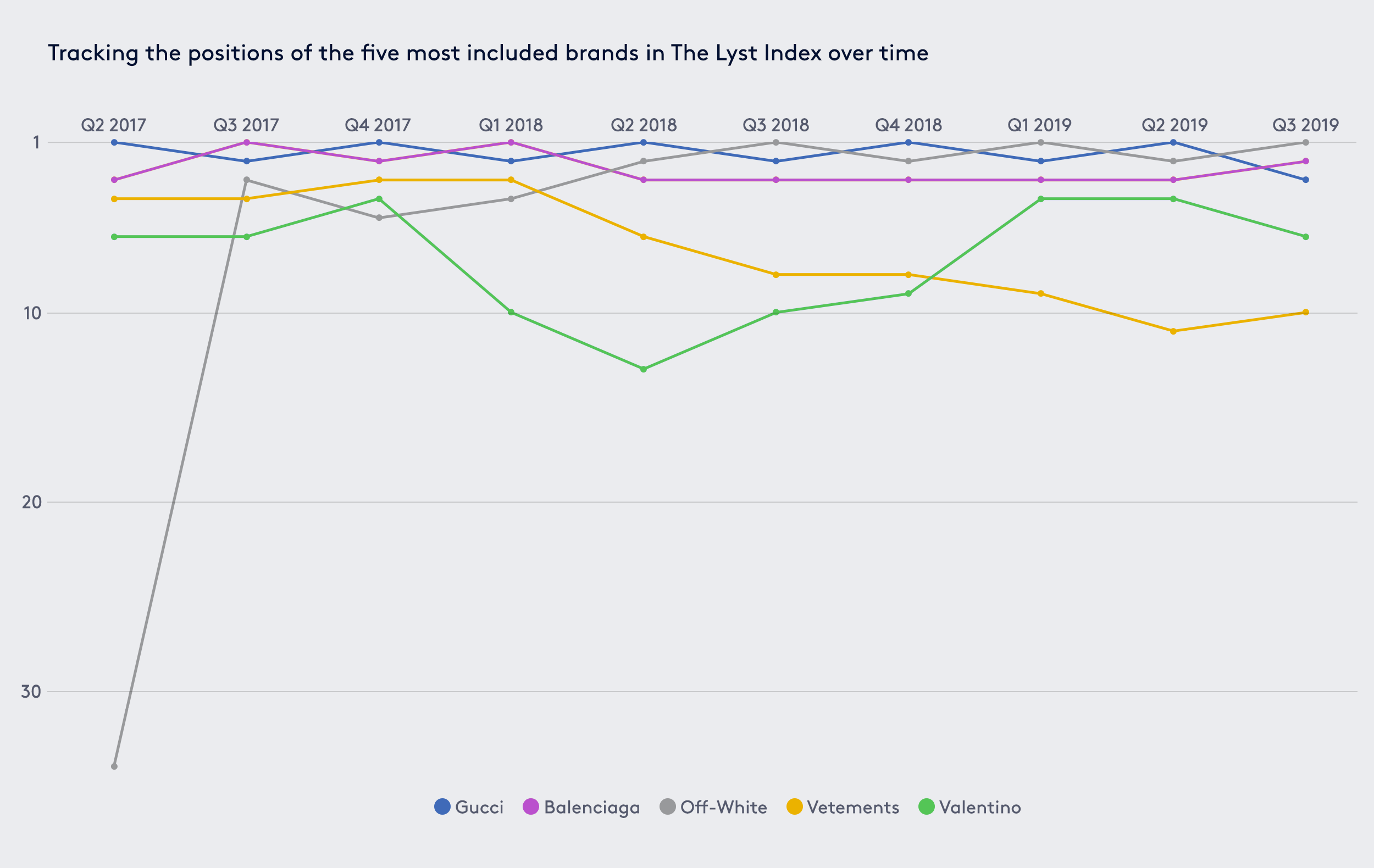 The womenswear/menswear split of all the products offered by this quarter's top 20 brands is 60/40. Stone Island is the only brand ever to have entered the Index that only has products in one of these categories.
Clothing makes up 45% of the top 20 brands' products, with shoes accounting for 25%, accessories for 17% and bags for 13%.
Sneakers are a category of outsized importance, making up 56% of the top 20 brands' footwear category, equivalent to 14% of their overall product range. Over the last quarter, 22% of all orders for the top 20 brands included a pair of sneakers. A quarter of all The Lyst Index's hottest products ever have been sneakers.
Within clothing, across both female and male categories, the most prevalent categories are jackets (15%), T-shirts (13%) and tops (12%). Sweats make up 8% of the top 20 brands' clothing, and suits just 1%, indicating the continued popularity of sportswear. Jeans remain a key category sitewide, but for the top 20 brands they make up just 3% of their clothing range.
When it comes to pricing, 14% of the top 20 brands' products cost less than $200, with 29% falling between $200 and $500. 17% of their products are priced between $500 and $750, while 40% are over $750.
For The Lyst Index hottest products, the sweet spot is $510 – the average price of all the products that have ever made the ranking. 57% of The Lyst Index's hottest products have featured a noticeable logo.
What does it take to become one of the 20 hottest brands in the world?
Vision, clarity and the ability to build a community. Daniel Lee has brought incredible energy to the evolution of Bottega Veneta and the reaction has been extraordinary. Inspired by process and 'being in the moment', his unapologetic approach to luxury holds creativity above all else. Free from any desire to become the hottest brand in the world, our focus is on the beauty and power of subtlety. We forego extensive explanation about our brand in favour of simply being visible and present across the current multicultural landscape.
Dario Gargiulo, Chief Marketing Officer, Bottega Veneta
Cultural relevance is key in this ever-changing landscape. It is important to be part of this movement, and be a brand which can speak to all ages. Here at FENDI, we have the uniqueness of our heritage and craftsmanship as a continued celebration. The challenge of today is to meet the zeitgeist, while remaining true and authentic to our roots. It is important to always find new ways to express our heritage by continuing to work on our DNA, through an explorative or collaborative vision on what is most inspirational for our brand, our product, and our consumer...
Cristiana Monfardini, Chief Communications Officer, Fendi
Hottest men's products
To find the world's hottest products, Lyst's formula filters more than six million items by volume of social media mentions, searches, page views, interactions and sales across thousands of online stores. We group colours for styles, and take into account global demand per volume of stock available.

Q3 2019
Hottest women's products
Bottega Veneta padded sandals

Jacquemus Le Chiquito mini bag

Adidas Continental 80 sneakers

Mansur Gavriel cloud print sweater

Prada black Nylon flat pouch

Reformation Juliette dress

Fendi FF motif bikini

Balenciaga safety pin earring

Hudson Jeans belted jumpsuit

Paco Rabanne 1969 shoulder bag
Bottega Veneta's Breakthrough Quarter
Bottega Veneta's padded sandals are the hottest shoes in the world. The hand-stitched, matelassé quilted leather mules with a squared sole retail for $790, and this quarter were responsible for over 27,000 online searches each month. The Bottega Veneta Pouch clutch bag, the fifth hottest women's product of The Lyst Index Q2 2019, continues to drive significant demand too, alongside the brand's mesh pumps, and Lido and Stretch sandals. Searches for Bottega Veneta shoes spiked 156% during September's S/S '20 fashion shows, where they were a fixture on front row feet. With search, sales and social mentions all soaring under new Creative Director Daniel Lee, Bottega Veneta has climbed 21 places in the Index hottest brands ranking, entering the list for the first time.
The Adidas Continental 80 sneakers are the only other shoes to make the hottest women's products list this quarter, coming in third place. Retailing at $80 and worn by celebrity influencers including Kendall Jenner, Hailey Bieber and Sofia Richie, searches for the sneakers have increased 170% this quarter.
Jacquemus' S/S '20 runway show held in the lavender fields of Provence boosted the brand's social mentions by 1,343% this quarter, and the pocket-sized Le Chiquito bag is back among the hottest women's products for a second time this year. Le Chiquito was responsible for over 12,500 monthly searches over the last quarter, with global demand for Jacquemus currently up 131% year-on-year. While not yet in the top 20, the brand is moving fast: Jacquemus has jumped 37 positions in The Lyst Index hottest brands list this quarter.
Paco Rabanne is also heating up. Fifty years on from its original incarnation, the reissued 1969 metal shoulder bag is this quarter's tenth hottest women's product, marking the first appearance in the Index for Paco Rabanne. Global searches for the brand are currently up 31% year-on-year, with the Influencer-approved 1969 bag, as seen on Priyanka Chopra and Emily Ratajkowski, the most wanted product.
Summer seasonality made for an interesting mix in this quarter's hottest women's products list, which includes both a wool sweater and a bikini. Mansur Gavriel's cloud print sweater sold out within weeks of being presented at the brand's "see-now, buy-now" F/W '19 showcase in New York, becoming one of the fastest moving products on Lyst. Meanwhile, in seventh position, Fendi's FF motif bikini is the swimsuit of the summer thanks to a 31% rise in page views this quarter. After being worn by rapper Nicky Minaj in June, the two-piece generated a 3,354% spike in social mentions, and multiple colourways quickly sold out across retailers.

Q3 2019
Hottest men's products
Moncler Bramant puffer jacket

Gucci leather belt with Double G buckle

Nike Air Jordan 1 Mid SE sneakers

Burberry train ticket print leather card case

Adidas by Raf Simons Ozweego sneakers

Stone Island logo patch sweatshirt

Amiri Track distressed striped jeans

Vetements embroidered cap

Vilebrequin octopus print swim shorts

Nike Tech Hip Pack bag
The New Streetwear Staples
The hottest men's products list continues to be dominated by streetwear and sportswear-inspired items. Since The Lyst Index began, there has never been a suit, tailored jacket or formal shirt among the hottest men's products. Moncler's Bramant Puffer jacket is the hottest men's product this quarter. Taken from the Moncler design archives, with the classic logo chest patch, the $1000+ down jacket was responsible for a 92% increase in searches in September. Luxury puffer coats remain a powerful trend worldwide, and Moncler is leading the charge. The brand has moved up 3 places into 14th position in the hottest brands list this quarter, and is on an upwards trajectory moving into outerwear season in the northern hemisphere.
But it wasn't all about down jackets this summer, as a pair of luxury printed swim shorts takes ninth place in the hottest men's products list. As seen on Jeff Bezos, the Vilebrequin octopus print swim shorts were searched for on Lyst more than 4,000 times over the past 3 months, while the brand saw a 105% rise in page views this quarter.
Gucci belts have placed eight times in the hottest women's products list over the last 2 years, with the blockbuster hit now entering the men's ranking for the first time. The second hottest product this quarter, the men's leather belt with Double G buckle has been averaging 110,000 global online searches a month since July. Luxury belts are proving an increasingly powerful product category, and Gucci's version is currently the hero product: it drives four times more searches than the second most popular option, Off-White's industrial belt.
Burberry's UK train ticket print, part of Riccardo Tisci's B Series of monthly product drops, captured media and customer attention when it first surfaced in spring on a keyring, which itself was a way of 'unlocking' access to a further product drop. The cardholder, this quarter's fourth hottest product, reignited heat for a design that was initially only available to purchase for 24 hours via Burberry's Instagram. Thousands of customers searched for the train ticket print leather card case this quarter, which sold out soon after its release. Meanwhile, Vetements' cap embroidered with a genetically modified motif is the eighth hottest product of the quarter, with searches for the brand's caps up 136% in August. On the day Creative Director Demna Gvasalia announced he had decided to step down, searches for Vetements increased by 22%.
Sneakers remain the hottest men's product category overall, with Nike's Air Jordan 1 Mid SE sneakers entering the hottest products list in third place. Thanks to constant stylistic reinventions, Nike's Air Jordan range stays top of mind among fans worldwide; searches for the style were up 31% this quarter. In May Adidas released a new version of its RS Ozweego sneakers as part of its ongoing collaboration with Raf Simons, which contributed to a 41% increase in searches for Ozweego sneakers over the last three months. Now completely sold out, the Raf Simons pair's resale price is on average 38% higher than the original retail price of $350.
To request information or images relating to the Lyst Index please contact press@lyst.com

Sign up here to receive the next instalment direct to your inbox.

12