Lyst's Definitive Guide To Sneaker Sizing
By Sophie Hay, Menswear Editor
Shopping online for sneakers can be tough especially when it comes to finding the right size for you. Sizes can differ between brands and it's easy to make mistakes—even if you're generally pretty confident of your fit. That's where Lyst comes in. We've consulted some of the world's top sneaker experts and conducted a broad brand fit investigation to create our definitive guide to sneaker sizing. You can thank us later.
The Experts
Who better to consult on the ins and outs of sneaker sizing than three bonafide sneaker heads. Meet the sneaker experts...
Kish Kash | @kishkash1
DJ, brand consultant and extreme sneaker collector Kish Kash is connoisseur of kicks. With over 2000 styles in his collection, he knows a thing or two about sourcing the perfect pair.
Shoe size: US 9
Andrew Brines | @okiniofficial
Andrew is the Footwear Buyer at London-based luxury menswear website oki-ni.
Shoe size: UK 9
Kevin Lyons | @klyonsnatborn
Artist, designer and lifestyle consultant Kevin Lyons has worked with some of the world's coolest sneaker brands including Nike and Converse. He is also the Creative Director of two clothing lines—Atlantis and NATURAL BORN. He has been collecting sneakers since he was 17 years old.
Shoe size: US 10.5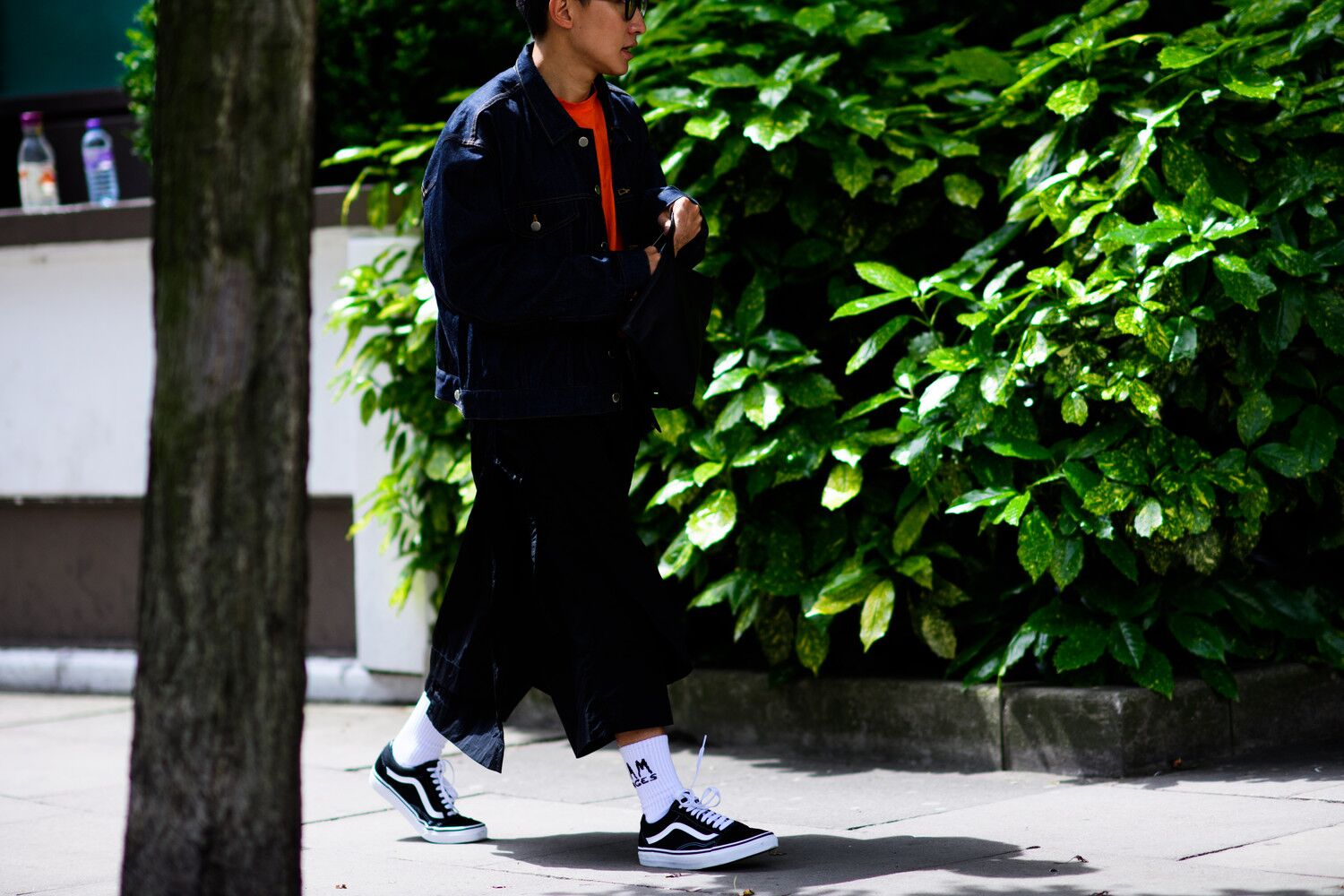 The Tips
Step One: Work Out Your Size
When shopping for sneakers, the most important thing you need to do is work out your shoe size—seems like a no-brainer, right? But getting this right isn't always as simple as you think.
The first thing you need to know is that there isn't an international standard in footwear measurements. This means that your US size may not directly correspond to your EU size and each brand will measure their shoes differently. Every footwear brand works on a different scale, so you might be a size 9 in adidas but a 9.5 in Nike. Confusing, huh?
Two of our sneaker experts, DJ and sneakerhead Kish Kash and oki-ni's footwear buyer Andrew Brines suggest that Japanese sizing is the most accurate as it measures the foot in cms.
Andrew uses the example of his Nike Tennis Classic sneakers which are a UK 9 / US 10 and are 28cm in Japanese sizing. The Japanese size is the most accurate, because if you were to measure your foot, you can see it's exact size to the nearest cm.
Step Two: Know Your Brand
Not all sneakers are created equal, and it pays to be clued up on each brands unique sizing scale. Here is our cheat sheet of tips from Lyst's most popular brands
Nike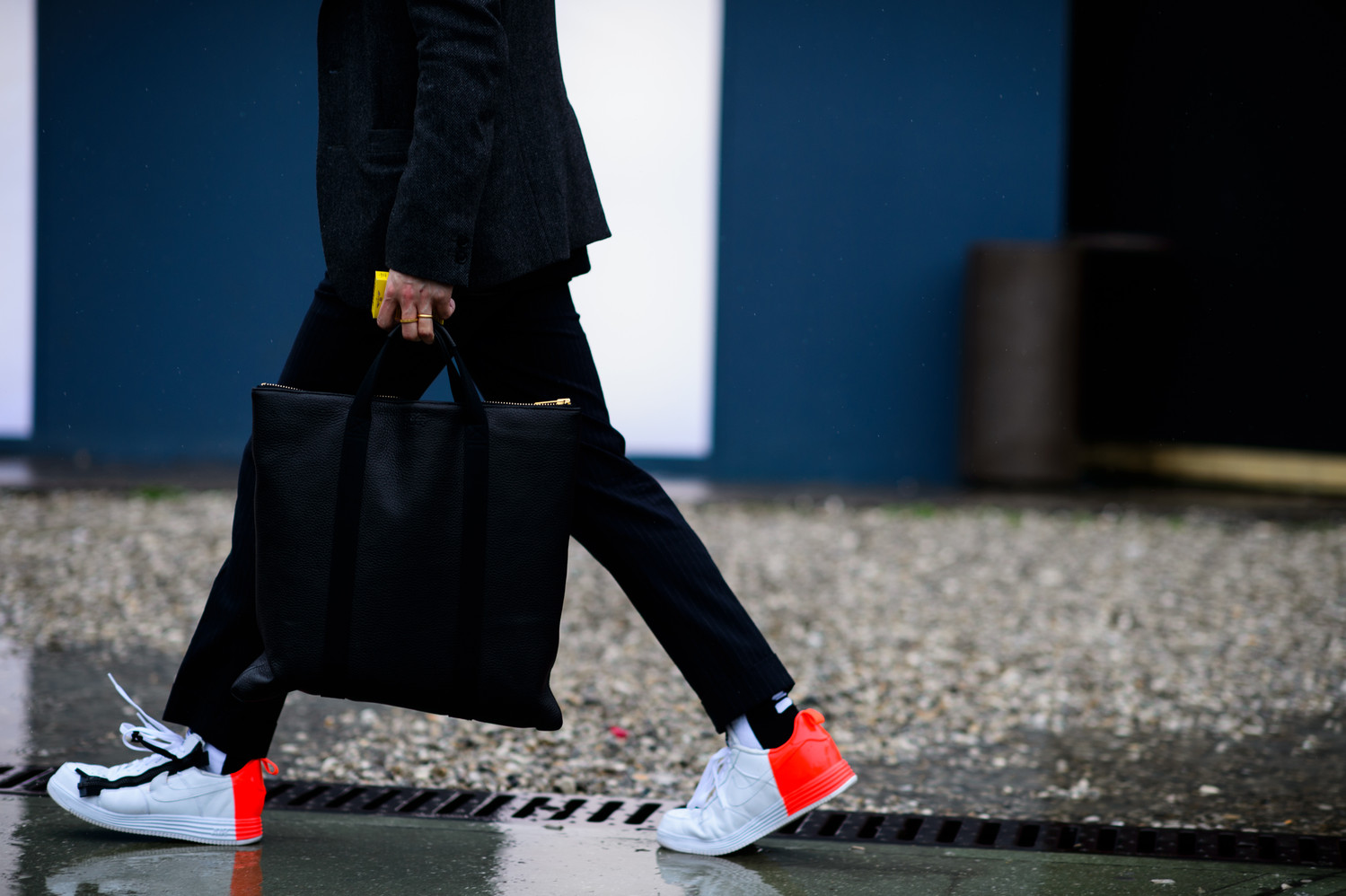 Nike sizing is often considered the benchmark of standard sneaker sizing and your size in Nike sneakers is usually a pretty good indication of your "true" size.
Shop all Nike sneakers here
adidas
Like Nike, adidas sizing can be considered fairly standard, and will likely reflect your "true" size.
However, if you are are looking for a pair of sneakers with Ultraboost technology listen up. Kish Kash recommends going half a size up when it comes to adidas sneakers using Ultraboost—so if you are normally a US 9, then opt for a US 9.5
Shop all adidas sneakers here
New Balance
New Balance was originally an arch support manufacturer that sold footwear to policemen, athletes and other wearers with physically demanding jobs. Today it's marked out by its decision to maintain a good portion of its manufacturing in both the U.S. and the U.K. instead of relocating to cheaper labor markets.
Size-wise there's a little more to consider with New Balance as they offer both regular and width sizing. For guys who wear straight sized shoes, a D width is seen as standard, but if you find your shoes are generally too roomy, opt for a B (or 2A for extra narrow) or conversely go for 2E for a wider fit (with 3E, 4E and 6E all available up to XXL wide fit). If you're in between sizes, go up a size rather than down.
Shop all New Balance sneakers here
Common Projects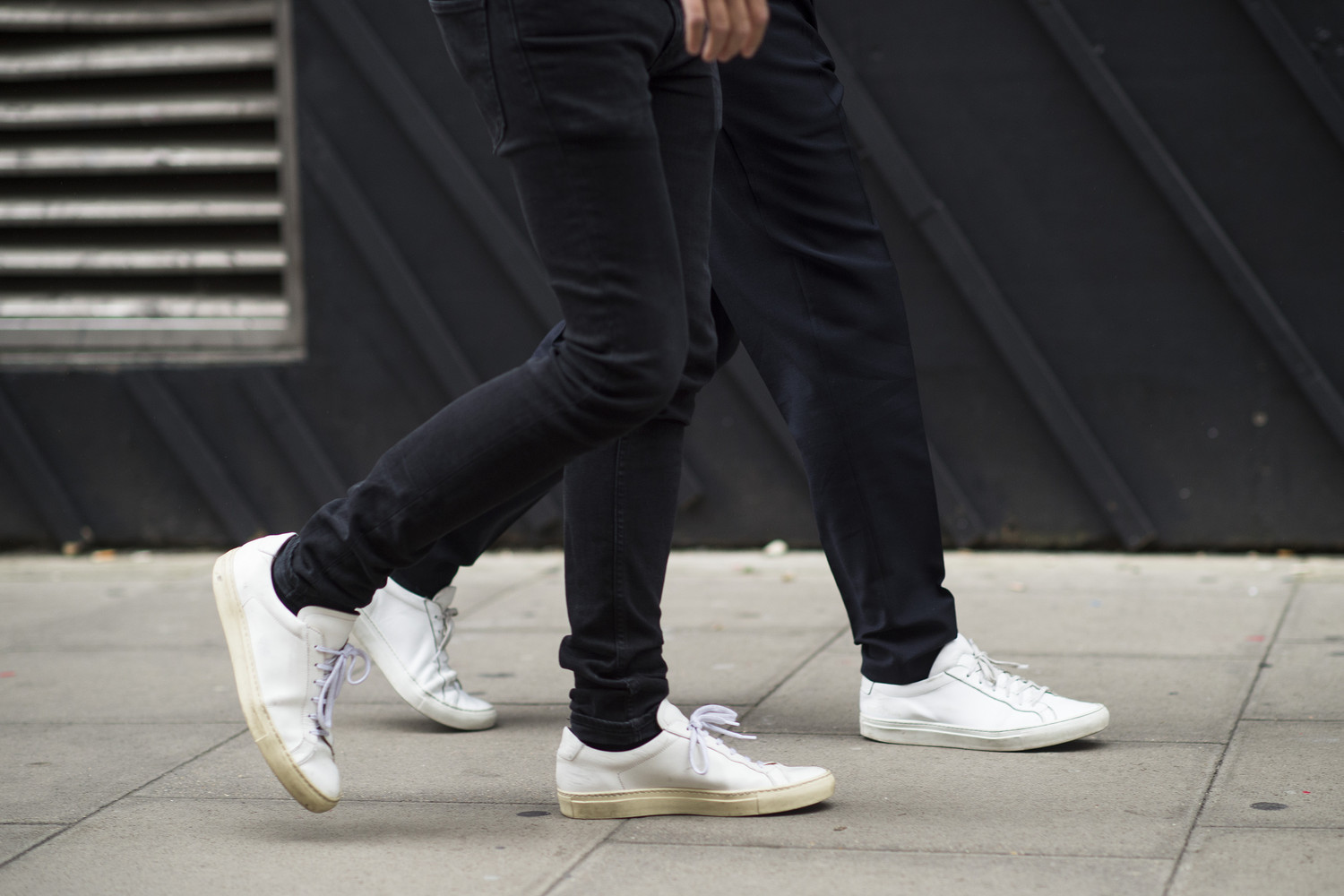 Perhaps it's the clean lines, supple Italian leather or variety of styles that draws people back again and again to the sneakers created by Peter Poopat and Flavio Girolami over a decade ago. Or maybe it's the realization that sometimes your old beat-up Vans really aren't office appropriate. Either way, those ten gilded digits, (which are the style number, EU size and color code if you were wondering), have become as recognizable as Nike's iconic Swoosh and have garnered an legion of fans.
Common Projects run on a European sizing scale, although Kevin notes that this scale sometimes runs a little big so would take an EU 42 in his slate grey pair instead of his usual EU 43.
Shop all Common Projects sneakers here
Converse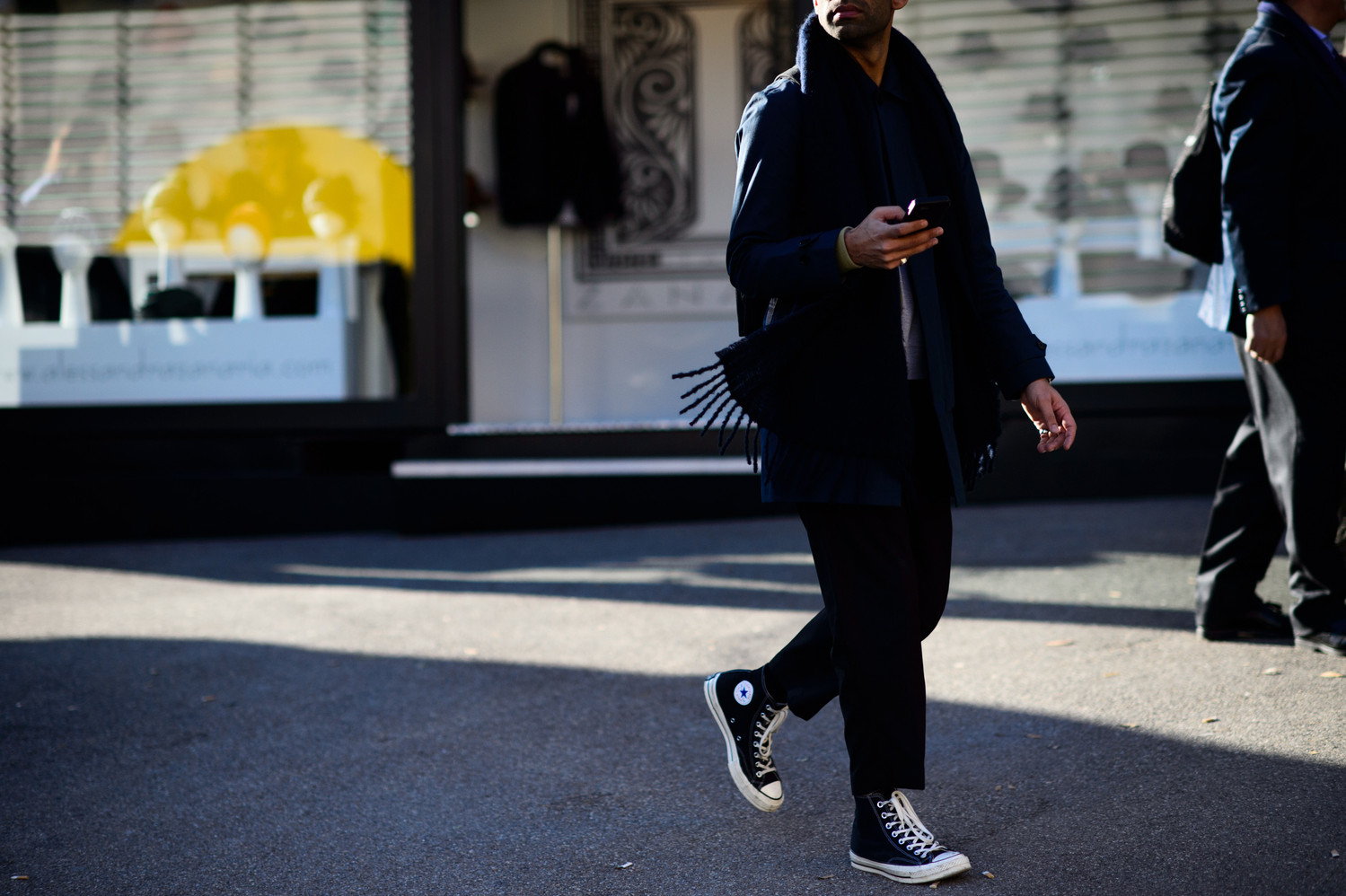 Converse Chuck Taylors are probably the world's most recognizable sneakers and the shoe's iconic design has barely changed since in was launched in 1917. Although these aren't the most hard wearing sneakers in the world, they are difficult to beat (and are affordable enough to be replaced when you wear them out).
Kevin Lyons points out that a classic pair of Chuck Taylors usually run really large—so large he recommends going at least one size down. As a guy who normally wears a US 10.5 he would buy a US 9 in Chucks.
Shop all Converse sneakers here
Golden Goose
Founded in 2000 by husband and wife duo Francesca Rinaldo and Alessandro Gallo, Golden Goose Deluxe Brand has become one of the fashion set's favorite sneaker brands. Like Common Projects sneakers, Golden Goose shoes run on a European sizing scale. Lyons would opt for a EU 42 and usually takes a US 10.5.
Shop all Golden Goose sneakers here
Filling Pieces
Dutch brand Filling Pieces was founded by Guillaume Philibert. Each pair is crafted in Portugal from luxe leather and blurs the line between sports and luxury sneakers. Kish recommends going a full size down in these shoes as they run pretty big—opting for a US 8 instead of his usual US 9. He also suggests that you could wear the sneakers without socks due to their leather interior. The natural material will wick away sweat and stop your shoes from smelling.
Shop all Filling Pieces sneakers here
Valentino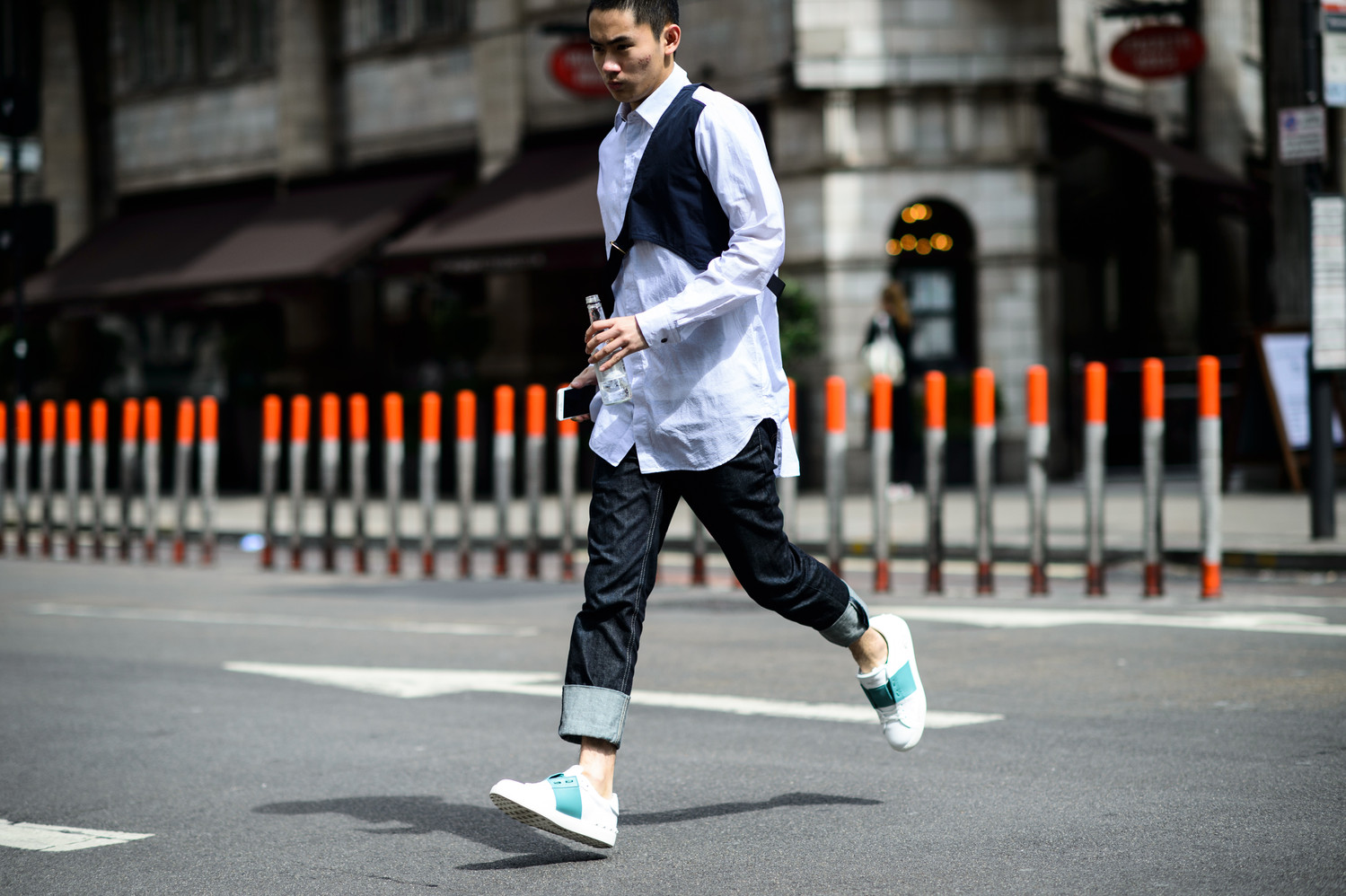 Italian brand Valentino's sneakers are crafted from luxury calf-leather and high-quality rubber. They fit true to European sizing and we'd advise you to opt for your 'usual' size.
Shop all Valentino sneakers here
Maison Margiela
Inspired by German Army standard issue sneakers, Margiela's Replica design scream utilitarian staple. The Bundeswehr Sportschuhe or Federal Defense Sports Shoe was prized because of its practicality and comfort. Margiela's take on the humble training shoe comes complete with supple leather and hand-finished stitching. While the style is available in minimal colors, it's the editions with paint splattered toe caps that have become Instagram favorites. Once again, these sneakers run on an EU scale and fit true to size.
Shop all Maison Margiela sneakers here
Y-3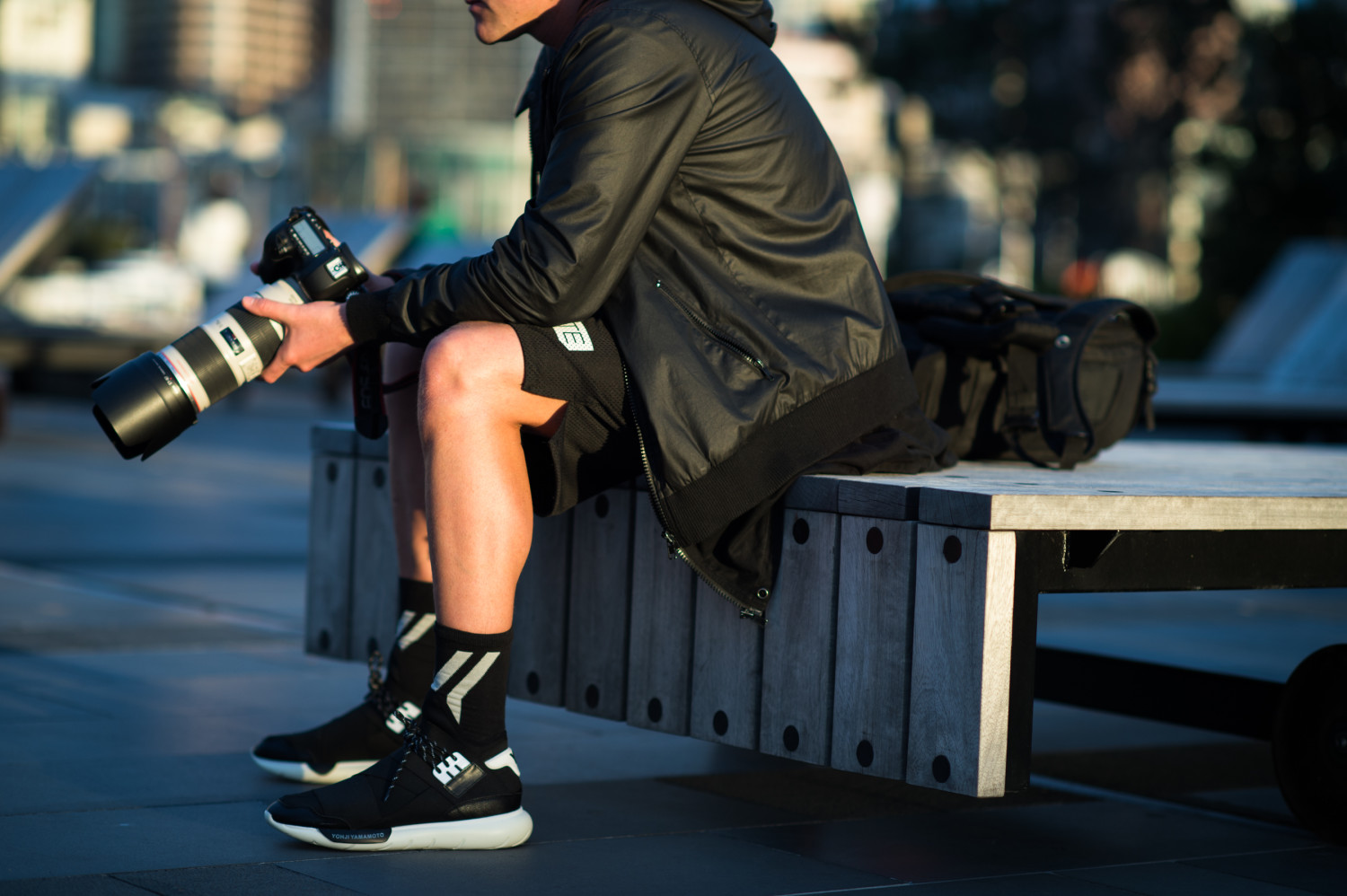 Founded by Japanese designer Yohji Yamamoto in 2002, Y-3 is a longstanding collaboration with adidas (AND one of this season's most searched-for sneakers). Combining performance-wear technology and utilitarian, functional aesthetics, the distinctive spongy soles and elastic tight uppers have spawned countless imitators. Like in his Adidas Ultraboosts, Kish Kash recommends going half a size up in Y-3 sneakers.
Shop all Y-3 sneakers here
Lanvin
Lanvin's sneakers are the epitome of simple, luxury sports footwear. The tennis-inspired styles aren't designed to make a statement, but will elevate whatever outift you choose to wear with them. Crafted from high quality, Italian leather, these shoes live up to their price tag. According to Andrew, Lanvin sneakers fit true-to-size.
Shop all Lanvin sneakers here
Reebok
Now a global sportswear giant, Reebok can trace its roots back to 1895, when 14-year-old Joseph William Foster designed a spiked running shoe above his father's shop in Bolton, England. Some of the label's most famous sneakers include the 'Classic', the tennis-style 'Club C' and its newest hit re-release - the 'Instapump Fury'. 5 years after it was first released, two new collaborations with cult brand Vetements has made the Instapump Fury one of the most popular 'ugly' sneakers. Though nearly all Reebok sneakers fit true to size, sneaker obsessives on Reddit recommend going up half a size for the Instapump Fury.
Shop all Reebok sneakers here
Asics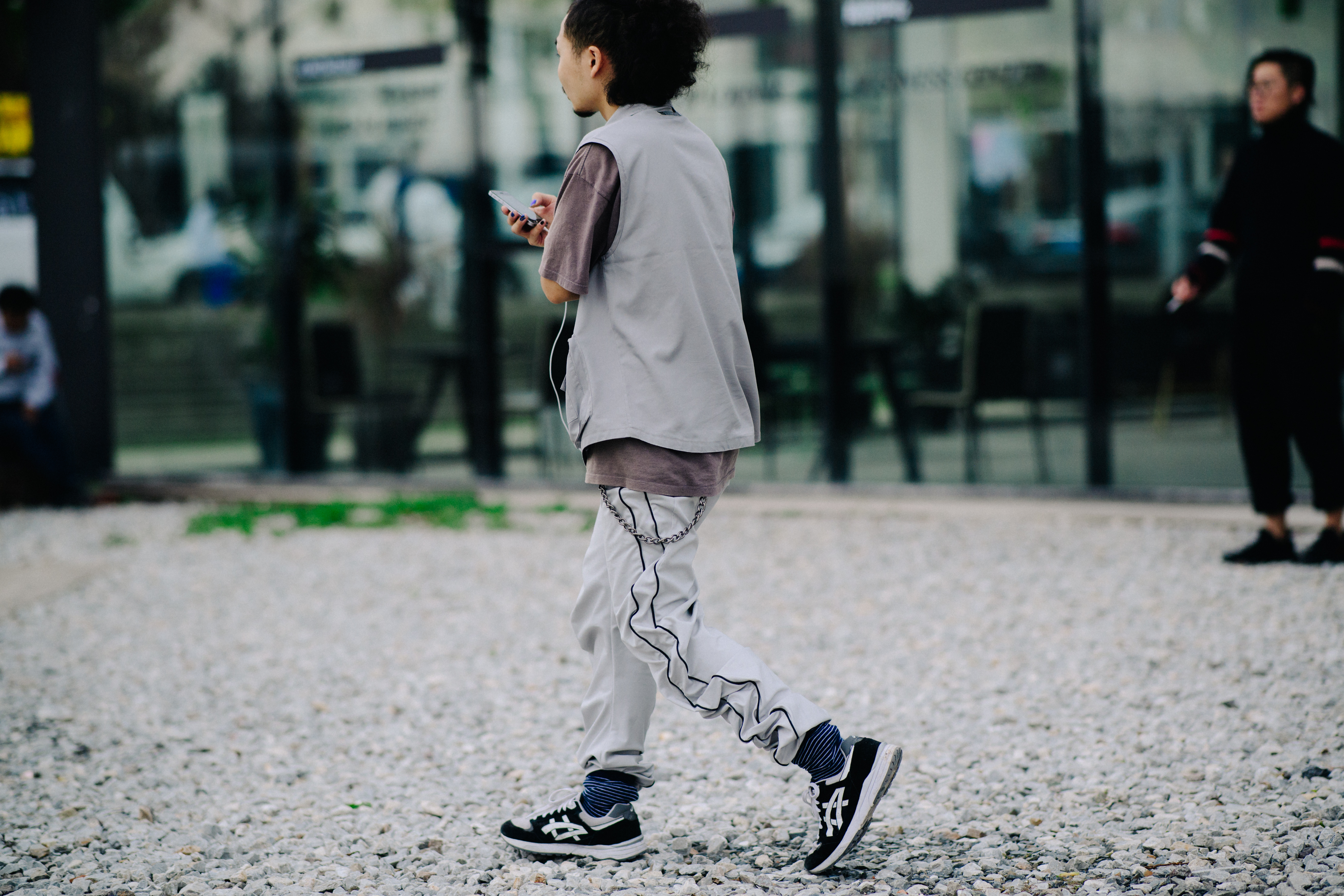 Originally founded by Kihachiro Onitsuka in 1949, Asics running sneakers have had a resurgence in recent years thanks to collaborations with J.Crew, Kith, and several others. But almost every Asics collab is a reference to its 1990s classic, the Gel-Lyte III. Done up in fresh new colorways, the brand's recent collab with the up-and-coming Bulgarian designer Kiko Kostadinov saw the brand's new Gel-Burz 1 become one of most re-sellable dad sneakers of the year so far - selling for over $650 on StockX.
If you weren't able to get your hands on a pair though, not to fear, the Gel-Burz 1 takes inspiration from the GEL-NIMBUS 20 and GEL-VENTURE 6, both of which are still readily available. Like most sneakers, Asics sizing should reflect your "true" size.
Shop all Asics sneakers here
Skechers
Dad sneakers - Skechers, in particular, were once regarded as 'frat bro' sneakers, unlikely to do anyone any style favors, but that has since all changed. Fast forward to 2018 and it's likely the coolest guy in your neighborhood is wearing a pair of the brand's newly refurbished D'Llites. The famous D'Lite, which is rumored to be the model in which Balenciaga's Triple S was based on, has become the brand's biggest seller and was upgraded August this year to a 3.0 version. Wide and comfortable, you should have no problem buying these sneakers in your normal size.
Shop all Skechers sneakers here
For more details, here are the full film transcripts:
Kish Kash
"My name's Kish Kash and yeah, I'm into my sneakers. I'm into my music or whatever. I do a bit of brand consultancy. I do a bit of this and a bit of that.
I got into kicks from an early age. It was primarily through my love of football and my love of music predominantly at that time—hip hop.
New Balance for me are generally my go-to shoes. They're so comfortable and they've got a great aesthetic. They perform very well and also the way they're crafted is impeccable. These ones here on my feet are New Balance 998s. They're made in the USA.
This is called the EQT ADV. This is just a beautiful shoe it really is. It's elegant. Again, I think, sometimes it's really tough to wear a sports shoe that looks like a sport shoe with a suit for example, but I think you'd get away with it with these. Definitely goes with chinos, definitely goes with jeans, definitely goes with cargo pants, definitely goes with shorts. It's a really strong look.
In terms of sizing, this follows the principles of Ultra Boost. You really want to be looking at a US9.5 if you're a US9 normally in Adidas. So, half a size up. In UK sizing, that is equivalent to a UK 9.
This is the Y-3 Racer. Sports luxe elegance right here. It's very clean and the materials used are of a premium level. With these, I'm a 9.5 so I've gone half a size up. You have multiple looks. I mean, shorts obviously, rolled up chinos or cargos will work really well. You've got a very adaptable and universal model of shoe.
This brand here is Filling Pieces. A Dutch brand. My friend Guillaume is the founder of it. Yeah, on foot these are just killer. You could wear these with a suit or you could wear these casual. There's [sic] many ways you can adapt your look with this shoe. It's universal. This sole here is super bouncy, but the thing about these is this is a lifestyle shoe not a performance shoe. The silhouette is based on basketball styles but a cleaner silhouette. I'm normally a US9, these are a US8 so I can go a whole size down in these and they still fit fine.
Andrew Brines
I'm Andrew, the footwear buyer at Oki Ni. These are the Nike Tennis Classics. I like them because they're a collaboration with Hiroshi Fujiwara of Fragment Design. I like them because they're versatile, they tend to go with anything. These are a Nike UK9, US10, 28cm shoe.
These are Lanvin Tech Runners. They fit well. Width-wise is good, length is really good. Quite a lot of space at the top but I'm pretty sure if I went a size down they'd be too snug. I'd probably wear something which is a little bit fuller in the leg or body to flow into the shoe. These are a UK9—I'm a UK9.
These are the Valentino Rockstud trainers. You could probably wear these going for a Michelin star dinner and not be turned away. They fit well, they're comfortable and they're not overly heavy. If you're thinking about getting a pair of tennis shoes and you wanted to elevate it beyond your Nikes and adidas and Common Projects, really the Valentino Garavanis are the only ones you need to consider. These are a Valentino size 43 which I assume is a UK9.
This is the Maison Margiela Replica sneaker. Germany and the world of fashion have contributed this which is the German Army Trainer (GAT). So, why do I like these? They're exceptionally versatile, they're a timeless shoe evidenced by the fact they're a 1970 shoe which is still relevant today. They're comfortable because they've got a nice cushioned inner sole which is thick and squishy. They also have the elasticated tongue which, if you wanted to wear them without laces, you could do so.
These are a 43 so these are smaller, supposedly, than my Nikes. There isn't an International standard in footwear measurements so a UK9 in Adidas is a US 9.5 so when you see Americans talking about this shoe and it doesn't fit true to size or whatever it's because they're talking about a Nike vs an adidas. Margiela and Valentino: no one works to the same size. Japan's quite good because they use centimeters so this UK9/ US10 is 28cms and that's a given because if you measure your foot you can see roughly what you are.
Some of the high end fashion shoes are being designed because of their appearance and their aesthetics. They're not necessarily as comfortable because they're not using Lunarlon technology or they're not using Boost. I want to show off in my expensive trainers, but at the same time I don't want to sacrifice comfort and function and practicality. So when you have the brands that can do that, it's the best thing.
Kevin Lyons
My name is Kevin Lyons. I am an artist living in Brooklyn, New York. I have been a sneaker collector since I was 17 years old. At the height of my sneaker collection I probably had close to 1400, 1500 sneakers. I was interested in shoes at a very early age. I was interested in brands and sports so I kinda grew up as an artist. I used to draw and play sports; that's what I did.
That combination of sports and design really led me to love the individual look of a shoe and also just the way it felt and the way it fit.
So this first one is one of my personal favorites. It is the original sports shoe: The Converse Chuck Taylor All Stars. I am a real proponent of wearing this type of shoe with a full-on suit.
This we have is the classic, iconic Adidas Stan Smith. It's done in all white which is kind of intriguing. It's a shoe I would only wear on sort of a formal occasion with a light summer suit or something. Having said that, the fact they're all white—I would love to take these in the studio and paint with these and do watercolors and let it splash all over them.
So these are a really beautiful pair of smoked gray, suede Common Projects shoes. I actually would rock these shoes more day-to-day. It feels very high end but it's still a sneaker so you can rock it all the time.
So these are made by Golden Goose, they're the Starter Leathers. These are I guess, a simpler version or a more classic version of what they usually put out. So I would wear these probably more with a suit and I can even see myself rocking these with a tuxedo or something funky like that.
You have to be very conscious of size. Nike is very traditional - I'm a 10.5 (US) in Nike. The big thing about the Chuck Taylors is that they run really big. I tend to be a 10.5 (US) in most shoes but in these I'm more like a 9 (US).
I love the fit and the profile of these [Stan Smith] shoes. They're super classic, super comfortable, they're true to size - I'm a 10.5 US. Common Projects runs in European sizes so according to 10.5 (US) I should be a 43, but they tend to run a little different so I'm a 42. You've gotta be conscious of that.
Golden Goose is a lot like the Common Project shoe where it's European sizing and I'm a little different in Europe so I would be between a 42 and 43 so you gotta make a decision but a 10.5 for me in these, these are more like a 42 than a 43. If you're looking for a must-have shoe or a shoe that's about to sell out you want to make sure you get the right size.
Article Updated in October 2018
Related articles
2. The History of Nike's Most Iconic Sneakers
3. 15 Facts You (Probably) Didn't Know About Trainers