This year's Grammy awards included some of the best fashion moments; after the ceremony, these were the outfits that drove the biggest searches on Lyst:
Leather: Interest in leather dresses went up 25% hours after Beyoncé wore a custom-made Shiapparelli number. Harry Styles performed shirtless in a Gucci leather suit, creating the biggest fashion impact of the evening: following that, searches for men's leather trousers went up 100% in less than 24 hours. G-Star RAW, Paige, Acne, and Costume National are some of the most searched brands for men's biker trousers.
Feather Boas: It wasn't just Harry Styles' leather look that got fashion lovers searching. Page views for feather boas saw a massive spike (+1500%) in just 48 hours after he wore one at the Grammys. The most searched piece is Gucci's purple feather boa.
80's party dresses: Searches for "ruffled", "with bows" and "ruched" dresses grew collectively 10% hours after Megan Thee Stallion and Lizzo wore 80's inspired dresses to the Grammy awards. Megan Thee Stallion's orange gown by Dolce & Gabbana inspired a 16% increase for orange dresses on Lyst.
'Extra' slip dresses: Dua Lipa's chain slip dress with a twist by Versace also caught the interest of fashion lovers. Searches for chain dresses went up 18%, while interest for embellished and bejeweled dresses grew 15%.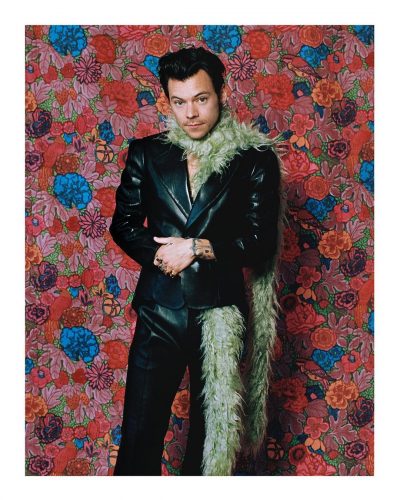 Granny chic – Grandma-approved items are gaining traction with men. On Lyst, searches for men's brooches have spiked 76% since January. Shoppers' favorites are Loewe's Anagram brooch and Dior Homme's Floral brooch. DaBaby caused a 25% spike in searches for Chanel brooches, 24hrs after he wore one during his Grammy performance alongside Dua Lipa. Meanwhile, page views for men's silk scarves have gone up 38% since January, with Gucci being the most wanted brand. Furthermore, searches for loafers and crocheted pieces have spiked 101% and 45% respectively.
Balletcore: With shoppers looking for more ballerina-esque pieces, balletcore is the new aesthetic du jour. Over the past two weeks, searches for ballet flats increased 36%; page views for Simone Rocha's pink satin ballerina flats, specifically, went up 15%. Wrap-around tops and cardigans are also high in demand, with searches rising 25% and 19% respectively. Meanwhile, "tulle" is currently amongst the most popular keywords alongside skirts and dresses; searches for tulle dresses are up 22% month-on-month.
Playful jewelry: Since the start of March jewelry searches that include the word "beaded" have been rising and are currently up 21% week-on-week. Shoppers are looking in particular for multi-colored beaded necklaces – Eliou's are the most searched – and rainbow bracelets; those by Roxanne Assoulin and WALD BERLIN are the most viewed. At the same time, searches for "toy beaded necklace" are also up 14%, with this Balenciaga being the most wanted.
Lyst is the definitive fashion shopping website and app, used by over 150 million shoppers a year to discover and buy 8 million products from 17,000 brands and stores. Download the app.
* If you would like to use these insights please credit global fashion shopping platform Lyst and include a link to the data source.
The Lyst Download
Fashion data insights delivered straight to your inbox every Wednesday