The Spring/Summer Trends Everyone's Already Searching For
As spring approaches Lyst has been monitoring the emerging trends that fashion lovers really want, comparing global searches and sales of more than 27 million shoppers over the past three months. Here are the trends and items, as highlighted by our data, that everyone will be wearing this spring.
WOMENSWEAR
Relaxed Aesthetic
Bra tops & bralettes – Pageviews for bra tops and bralettes have increased by 114% since the beginning of the year. Most searched terms include "sheer bralette", "lace bralette" and "knitted bralette". Shopper's current favorites include Rokh's button-down bralette, Jacquemus Le Haut Pampelonne and Versace's jersey bra top.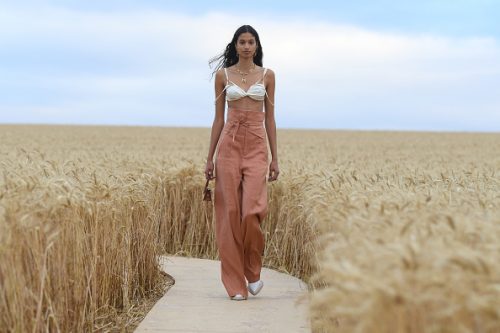 Loose fit – Global searches for baggy and relaxed-fitting denim have increased by 86% since the start of the year. Relaxed and wide-leg trousers are equally high in demand, having increased by 84%. Most-wanted brands include Weekday, &Other Stories and Rag&Bone.
Elevated sportswear – Demand for comfortable silhouettes continues throughout spring and Summer, but with a little twist. Searches for biker shorts have increased 95% since the beginning of the year, while sports bras are up 108%. To elevate their sportive outfits, shoppers are combining them with blazers, searches for which have increased by 87%. Favorite blazer styles include "leather", "oversized" and "velvet".
Flowy dresses – Just as in previous years, comfortable dresses will be back as a spring/summer staple this year. Searches for long, flowy dresses have increased by 149% since January and by 36% year-on-year. Most searched-for brands include Free People, Rixo and Zimmermann.
New Summer Vibes
Summer metallics: Metallic shades are growing in popularity with searches including the keywords "metallic", "silver" and "disco" increasing 43% collectively since the start of the year. Following jewelry, the most popular category is jackets; pageviews are up 16% month-on-month.
Bold sleeves and shoulders: Puff and oversized sleeves continue to top users' wishlists; since the start of February searches for "puff-sleeve" dresses are up 18% whilst searches for tops including the terms "big sleeve" and "oversized" grew 28% collectively. Meanwhile, padded shoulders and muscle tees are still high in demand with Frankie Shop's Eva muscle tee and The Attico's Bella t-shirt amongst the most popular pieces.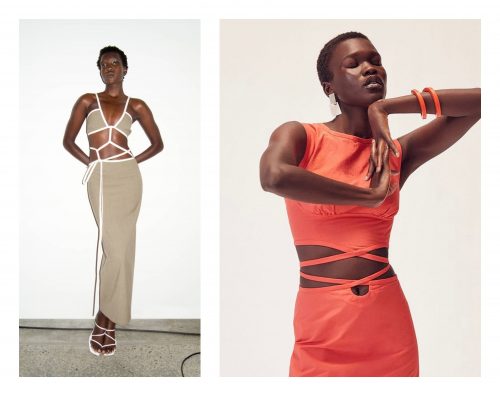 Midriff flossing: Midriff flossing is set to be the hottest trend of the summer with searches including the terms "ties" and "cut out" increasing 57% year to date. Christopher Esber is amongst the most wanted brands; pageviews for the brand's tied, cut-out dresses are up 29% month-on-month while searches for its loophole maxi skirts have increased 24%.
Big chunky chains: Looking at jewelry, shoppers are looking at "chunky chains" with searches for the term rising 42% month-on-month. Although necklaces and bracelets are the most sought-after categories, page views for "chunky chain bags" jumped 25% since the start of the month.
Crochet and net: As searches for mesh and sheer tops have increased 32% and 29% respectively year to date, crochet and net pieces are amongst spring's fastest-growing trends. In more detail, searches for crochet dresses are up 21% since the start of the year, whilst "net" is the most popular term alongside accessories; page views for net bags increased 34% since the start of the month.
MENSWEAR
Effortless suits – Tailoring is back for men's fashion; searches for suits on Lyst have increased 127% in the last 3 months. In particular, relaxed and oversized styles are seeing the highest demand, growing 146% since November. Looking at the past month year on year, demand for suits is up 47% with Hugo Boss, Yohi Yamamoto and ASOS among the most popular styles.
Utility – Fashion lovers are reviving the utility trend this season. Since January, we've seen an increase in functional and military-inspired items including: overshirts (+34%), "tactical" gilets (+38%), bomber jackets (+40%) and "uniforms" (+39%). Meanwhile, at the same time page views for cargo trousers have spiked 63% with Stone Island's stretch cotton pants and C.P. Company's nylon black pants being the most wanted pieces. Ahead of spring, shoppers are also looking for "oversized" shorts (+96%) such as Maison Margiela's large bermudas. Looking at fabrics, searches for nylon pieces have spiked 30% since the beginning of the year. Whereas utility trademarks (Stone Island, C.P. Company, 1017 Alyx 9SM and A-COLD-WALL*) are the most searched, minimalist workwear brands such as Craig Green (+38%) and Lemaire (+95%) are also seeing an increase in demand.
Elevated loungewear – Loungewear has become a menswear staple in the past few months with demand for "lounge" pieces increasing 239% compared to last year. Looking at January, searches for "fashion pyjamas" are up 336% year-on-year, with Derek Rose, Calvin Klein and Dolce & Gabbana as some of the most popular brands.
Demand for gowns and kimonos has also increased; after Bad Buddy released his video with Rosalía on Valentine's day, searches for "kimonos" and "gowns" on Lyst grew collectively by 50% likely influenced by the artist's elevated loungewear look in a velvet kimono and silky pants.
Pastel pink – Pink for men has been growing consistently since the start of the year. Pageviews for men products in pink have spiked 136% compared to the same period last year. The most popular product categories are: casual jackets, with Gucci having some of the most wanted pieces, sneakers (Puma RS X3 Luxe and Nike Air Force 1 Valentine love letter), hoodies, casual shirts, t-shirts as well as polo shirts, with Polo Ralph Lauren and Jacquemus among the most popular brands.
COLOR TRENDS
Black & white – Whilst black and white currently remain the two most-searched-for colors on Lyst, demand for pieces that combine these two-tone monochrome colorways has also spiked since the start of the new year. More specifically, black and white dresses have seen the highest spike with searches up 172% year to date, while most wanted brands include Gabriela Hearst, Gucci and Maison Margiela.
Nautical – Stripes are one of the biggest trends for spring/Summer this year. As searches for striped pieces are rising (+109% year-on-year), striped T-shirts, sweaters and long sleeve tops are among the most-searched-for styles; they're all up collectively 54% since January. Pageviews for pinstripe button-up shirts are up 19% since the start of this month, meanwhile, demand for striped dresses in bright colors has increased 31%.
For male shoppers, the classic sailor t-shirt is back with the most-wanted brands for striped pieces including Gucci, Paul Smith, and Burberry.
Bright pink – Pink is officially one of the 3 most wanted colors of the season. Pageviews for pink items on Lyst have been consistently high over the past few months; with searches for "hot pink" and "bright pink" specifically rising an additional 80% since February. Dresses, blazers, tops and shoes are the most wanted product categories in this bright shade.
Acid bright colors – Yellow is amongst the fastest rising colors this spring, with searches growing 47% month-on-month. Yellow sandals and mules have seen the sharpest increase in searches, followed by other categories such as bags and hoodies. Other feel-good colors that have seen global searches increase over the past month are apple green (+40%) as well as tangerine orange (+45%).
Lyst is the definitive fashion shopping website and app, used by over 150 million shoppers a year to discover and buy 8 million products from 17,000 brands and stores. Download the app.
* If you would like to use these insights please credit global fashion shopping platform Lyst and include a link to the data source.
The Lyst Download
Fashion data insights delivered straight to your inbox every Wednesday