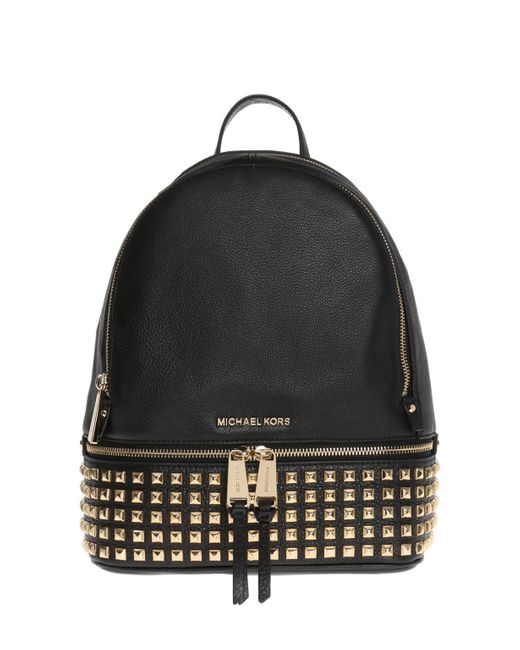 Women's 'rhea-zip' Backpack Black
Details
Black 'Rhea-Zip' studded backpack from Michael Michael Kors. Size medium. Made of leather. 2 separate zip compartments. Metal logo and two-way zip pocket at front. Semi-round handle. Adjustable shoulder straps. Black, lined interior with 4 pockets – 1 zipped. Gold-tone metal hardware. Color: black
From Michael Kors
Rhea Medium Embellished Leather Backpack
Laid-back yet luxe, our Rhea backpack redefines big-city accessorizing. We love how the embellished suede panel contrasts the crossgrain leather construction with tactile richness. With its multiple zipper pockets and delicate shoulder straps, it's a feminine take on the enduring design. 100% Leather. Gold-Tone Hardware. 9.5"W X 12.5"H X 5"D. Handle Drop: 1". Exterior Details: 2 Front Zip Compartments. Interior Details: Back Zip Pocket, Back Slip Pocket, 4 Front Slip Pockets. Zip Fastening. Dust Bag Included.
From LUNGOLIVIGNO Fashion
Black And Gold Rhea Backpack
Backpacks. Leather backpack. Two zippered front pockets. Gold-tone hardware. Adjustable straps. Two slit inner pockets. Zippered inner pocket. Zip closure. W: 25.4cm x H: 29.8cm x D: 11.4cm. Composition: 100% Leather. Made in Indonesia.
From Raffaello Network
Backpack For Women On Sale
Black. On Sale. Fall - Winter 2019/20.Michael Kors Gold Metal Logo on Front. Zip Closure. Zip Pockets. Studs Details. Leather. Handbags: Michael Kors Backpack for Women. Backpacks. Other Colors: Gold.
From Carola Zeta
Backpacks And Bumbags Rhea Zip Stud Md Women Black
Studs , back adjustable straps , front logo. Backpacks and bumbags michael kors rhea zip stud md women leather 30s5gezb5lblack studs , back adjustable straps , front logo.