Bringing elegant style back to the street, Virgil Abloh is shaking up the Urban Luxe scene and attracting big name endorsements from some of the biggest and most influential talents on the planet. The Off-White range of footwear targets the spot between street-cool and exquisite polish, delivering slick glamour back to the bubbling underground. Pick out mirrored ankle boots, dynamic espadrilles and tennis sneakers in the signature spirit and heart of Off-White.
Virgil Abloh is also a DJ and record producer.
One of Time's 100 Most Influential People in the World.
Created Serena William's outfit for the 2018 World Open.
Abloh has collaborated with Nike on designer footwear.
Designed the artwork for Jay-Z and Kanye West's collaborative album.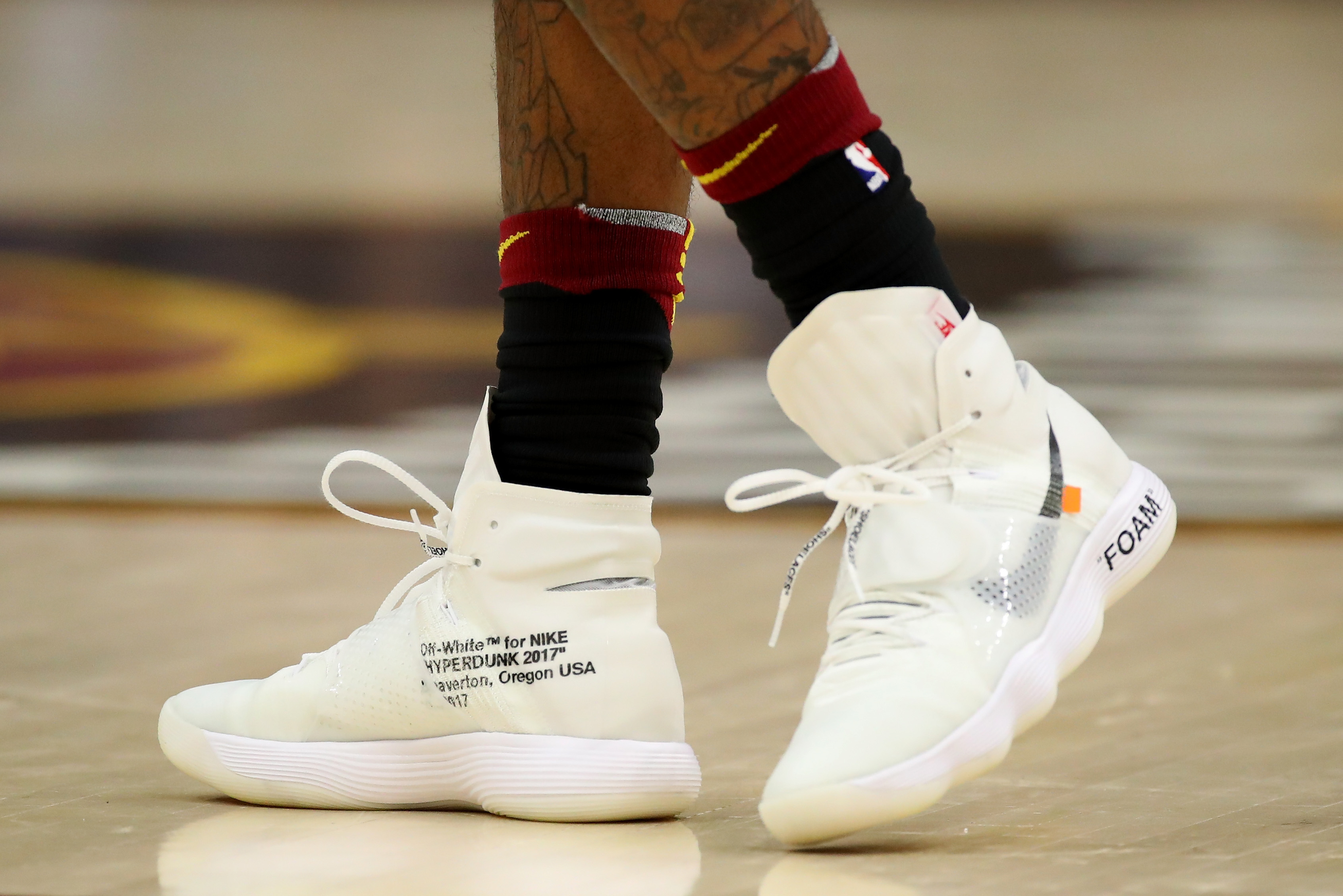 History of Womens Off-white Shoes
American designer Virgil Abloh has the unusual distinction of being 'classmates' with Kanye West. The two icons found themselves interning in the same class for Italian luxury fashion house Fendi, eventually going to on to collaborate with each other on several high-profile creative projects. Basing himself in Milan, Abloh went on to form his own fashion company 'Off-White' which was based on the concept of 'defining the gray area between black and white as Off-White'. Finding acclaim for bringing a fresh elegance and sophistication to urban streetwear styles, Abloh soon began collaborating with some of the biggest companies in history, designing creations for LEVI, IKEA, Timberland and crafting new footwear ranges in collaboration with Nike. Endorsed by a long list of iconic names ranging from Beyonce to Justin Bieber, Abloh is now recognised as one of the most genuinely influential talents in the industry, picking up the Urban Luxe Award at the 2017 British Fashion Awards.
Current shoe collections
MIRRORED LEATHER ANKLE BOOTS: Stunning metallic look with velvet trims, produced from 100% silver-tone leather.
PATENT LEATHER BOOTS: These boots from Off-White are made for walking and proudly display this bold message in dramatic print.
CONTRAST LACE-UP SNEAKERS: A street symphony in black and red from the master of urban cool.
INDUSTRIAL BRIDE SANDALS: Fabulously elegant and powerful design which fuses street strength and resolute femininity.
PRINTED LEATHER PUMPS: Inspired by early 20th century designs, Abloh puts a new spin on these black leather pumps with hazard tape straps.
Famous people wearing Off-white Shoes
Naomi Campbell was an early fan of Virgil Abloh, and made her feelings known about the designer when she tweeted simply "You are our future." The supermodel is now the proud owner of a pair of custom Off-White sneakers branded with the legend 'AIR NAOMI'. Rhianna was recently seen stepping out in a pair of Off-White runway shoes fit for a princess, as they were actually inspired by Walt Disney's Cinderella. Other big names to be proud supporters and wearers of the influential designer's work include Rita Ora, Serena Williams, Gigi, Beyonce, and many others.
Similar brands
ZADIG & VOLTAIRE: Lavish new footwear collections from the innovators of the high-class footwear scene.
YEEZY: The hottest new footwear collections from Kanye West that are taking the industry by storm.
RED VALENTINO: Urban glamour shoes with the superior luxury production you'd expect from the Valentino name.
PROENZA SCHOULER: Edgy urban designs with a gorgeously feminine heart.
MINA PARIKKA: Life is far too short to be taken seriously. Discover your playful side with Minna Parikka.