Veronika Heilbrunner's Guide to Sneaker Chic
As told to Katherine Ormerod, Editorial Director
Veronika Heilbrunner is one of fashion month's most recognizable faces. One half of street style's ultimate power couple (with boyfriend Justin O'Shea, creative director at Brioni), the Bavarian native has inspired countless trends while becoming the poster girl for the sneaker revolution. Now a stylist turned digital entrepreneur, we caught up with her to talk Yeezys, German practicality and the power of online fashion.
Sneakers & Street Style
My relationship with sneakers and street style began four years ago at Paris fashion week. I was wearing a beautiful white Valentino dress, but I'd had appointments all day so I'd thrown on a pair of pink Nikes to run around in. My boyfriend picked me up in his car to go to the Valentino show and I was about to change into suede heels when he said, 'Why bother?' It's obvious now, but back then it just didn't seem appropriate to go to a catwalk show in running shoes. Since that moment I haven't looked back.
"It's obvious now, but back then it just didn't seem appropriate to go to a catwalk show in running shoes."
Every season I change up my sneaker look. I definitely go on and off styles, but when I love a sneaker I want to wear it to death. At the beginning it was about very sporty technical models, then I moved onto the Air Force 1 phase—I wore them with absolutely everything. This season I'm back into Converse, especially in suede, and Eytys with a really thick sole.
Playing With Proportion
Because I'm tall and broad, sneakers balance out my proportions to make me look more feminine and fragile. I love that sneakers look big on the foot—it's a simple styling trick. I'm also 100% a box-fresh girl. I have way too many sneakers in my wardrobe, probably more than 30 at any one time. But I do throw out the old and dirty ones when I really can't clean them up. I don't use anything special, they just get thrown in the washing machine.
My style has always been about mixing high and low. Because I'm tall I've never needed heels, and I walk a lot so I want to be comfortable. I think it's the German in me—we like practicality. Working as a stylist means I run around all the time. But that doesn't mean I don't love beautiful romantic dresses. I just think it's more interesting to break it up and add a sense of reality rather than trying to look like an advertising campaign. That's how you put your own stamp on things and make runway pieces work for you.
My Sneaker Closet
I've just started a little Adidas collection. But that's only because of Yeezys. I got Boosts the first day they were released—they're great for balancing out slim jeans or short hemlines. I also like the Stan Smiths by Raf Simons, I have a pair in baby pink.
Style Beginnings
I think my upbringing added a sense of realism to my style attitude. I grew up in the Bavarian countryside and my parents had nothing whatsoever to do with fashion. Like a lot of people in the industry, my interest began with my mum's magazines, even though as a teenager I had no idea that editors even existed. It wasn't until I was 17 years old and scouted by a modeling agency that I began to learn about the industry. Even though I had a pretty unsuccessful career, after a year I knew I wanted to be a fashion editor.
"I think my upbringing added a sense of realism to my style attitude."
I wrote to every single magazine in Munich to apply for an internship and I took the first one that was offered. From there I quickly got an assistant job at Jolie magazine and spent a few years working my way up to being an editor at very commercial titles.
Since then my career has taken me into the digital world as an editor at my-theresa, back into print at Harper's Bazaar and then on to running my own platform, hey-woman.com, which I set up a year ago with ex-Vogue.de editor Julia Knolle.
Digital Futures
Personally I love consuming fashion online—the speed and access is so addictive. Going back to work on a magazine felt dusty in comparison, and the idea of shooting an editorial and watching the art department play with it for three months before finally seeing it on the newsstands just seems medieval.
"Personally I love consuming fashion online—the speed and access is so addictive."
I love the intimacy and edited view of culture, fashion and lifestyle hey-woman.com offers—and because it's bilingual we can reach women around the world. I also love the idea that we don't know 100% what the future holds, for me that is the most exciting thing about working in fashion today.
Below we break down three of Veronika's best sneaker looks…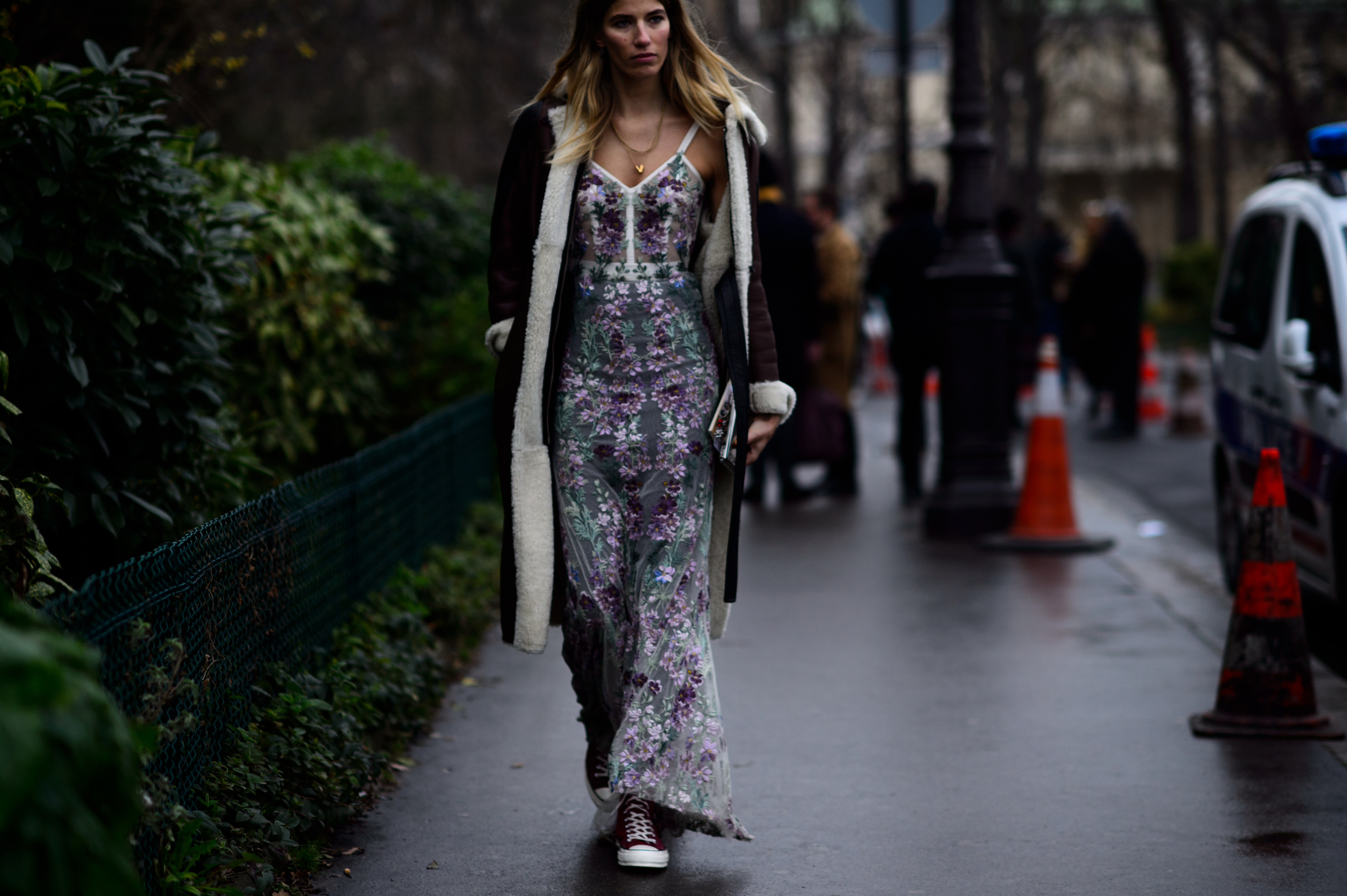 If Veronika has taught us anything, it's that a pair of Converse can give you that enviable cool-girl vibe in one easy step. We love how these burgundy low-tops dresses down her ankle-length slip dress, making it appropriate for daytime.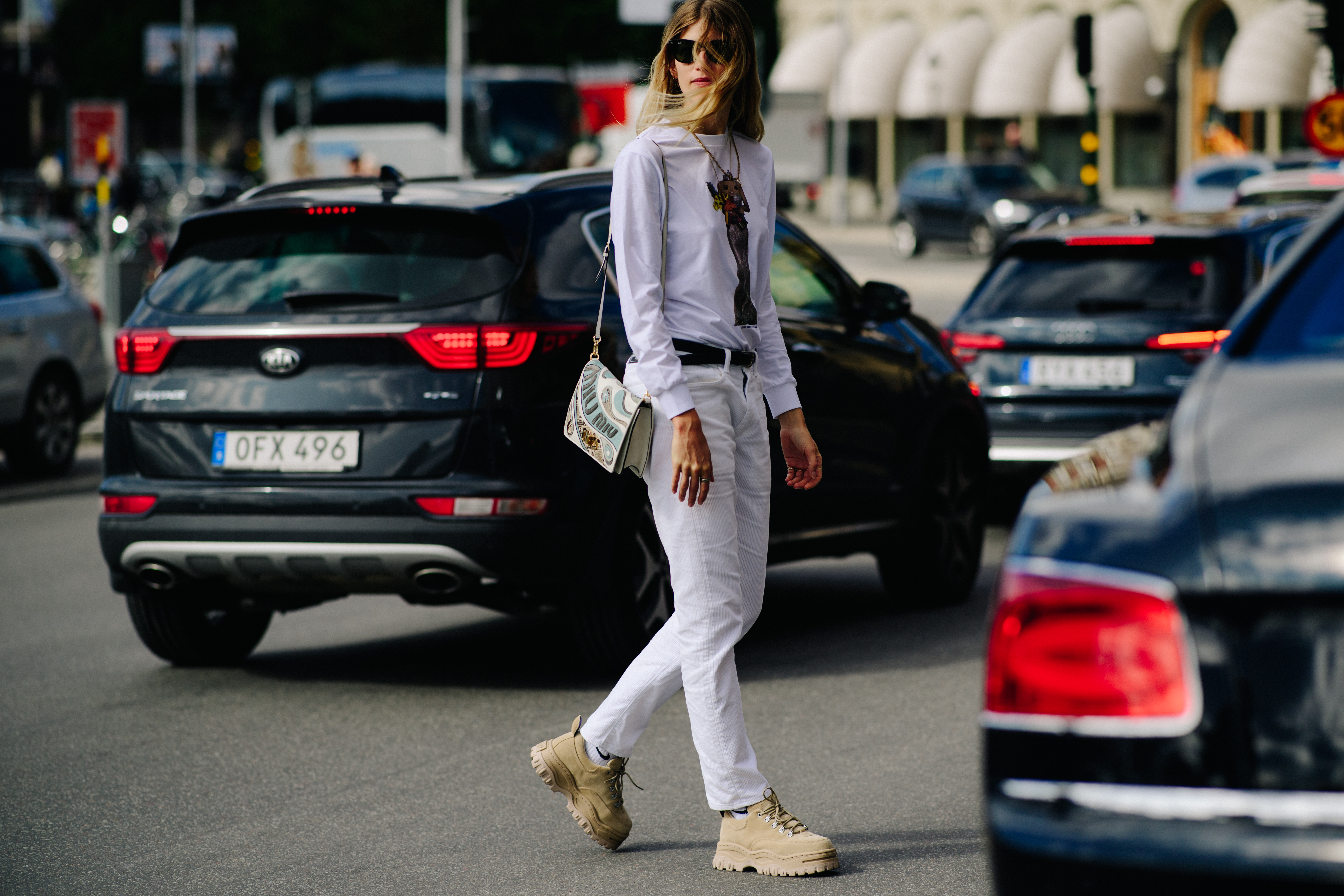 There are some fashion rules that were made to be broken and as this look proves, wearing all white should be at the top of that list. Veronika's hiking-inspired sneakers (a big thing this fall) helps break-up her outfit whilst still remaining tonal and adding an edge to her tomboy-inspired look.
Pink sneakers come with the fear that we may end up looking like an 8 years old, but Veronika's look proves there's plenty of ways to wear pink sneakers without looking too girly. Using her millennial-pink high-tops to breakup an otherwise all-black outfit, this is monochrome dressing at its best.
To shop all sneakers click HERE, or scroll down for the full edit.
Article Updated in October 2018
Related articles
1. How To Clean White Sneakers
2. Why Everyone is Obsessed With Common Projects Sneakers
3. We Just Can't Get Enough Of These Minimal Sneakers