The Louis Leeman line of shoes are aimed at the fashionable gentleman who dares to be distinctive. Combining the ingredients of fine Italian workmanship with luxuriously embellished European designs, Louis Leeman footwear is fine-tuned to generate attention and stand out from the pack. Expect smooth velvet slip-on shoes, quilted leather sneakers, suede western boots, and chain leather decorations from the footwear brand adored by the most stylish celebrities of today.
Louis Leeman are acclaimed for European beatnik designs.
The company opened their new flagship store on Madison Avenue.
Louis Leeman shoes are a massive hit with fashionable celebrities.
The brand recently launched its first women's collections.
Louis Leeman have collaborated with Cesare Casadei and Mary Katrantzou.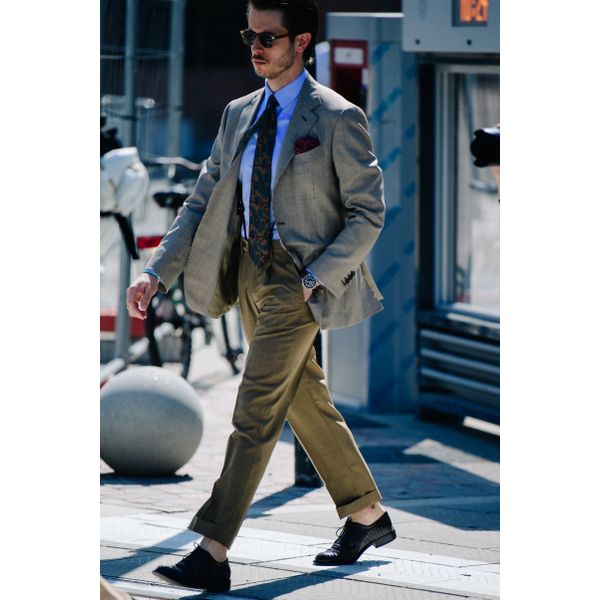 History of Mens Louis Leeman Shoes
Dutch shoe designer Louis Leeman first met his Italian wife Erica Pelosina while they were both studying at the Polimoda institute in Erica's homeland of Florence, Italy. Louis pursued his ambition to become a first-class shoemaker and secured positions at major fashion labels, while Erica followed her passion for fashion by working for Vogue Japan. In 2012, they joined forces to form the Louis Leeman brand, producing unique footwear rooted in Italian craftmanship and luxuriously embellished beatnik designs with the spirit and heart of Europe. Louis Leeman shoes were an instant hit with A-list celebrity names including the likes of Robert Downey Jnr, Michael Keaton and Jared Leto. Now collaborating with global fashion houses such as Cesare Casadei and Roberto Cavalli, the brand continues to expand its horizons and fill the shelves of major retailers, with the first Louis Leeman flagship store popping up in Madison Avenue, New York and further boutiques planned around the world in the very near future.
Current shoe collections
SUEDE WESTERN BOOTS: Beautifully dramatic boots with 35mm heel and side pull loops, designed to stand out from the crowd. EMBROIDERED VELVET SLIP-ON SHOES: Vibrant and dynamically designed velvet slip-ons with satin lining and stunning embroidered detailing. BRAID BUCKLE LEATHER HIGH-TOP SNEAKERS: Crafted in Italy from the most fashionable designers in the neighborhood, these sneakers feature a leather upper and lace-up vamp. WHITE QUILTED LOW-TOP SNEAKERS: Ultra-comfortable low top sneakers crafted from calf leather with padded collar and tongue. EMBELLISHED HI-TOP SNEAKERS: Glittering elegance from the freshest faces in footwear sophistication and style, produced from black leather with gorgeous suede embellishments.
Famous people wearing Louis Leeman Shoes
Louis Leeman shoes are proving to be a huge hit with A-list celebrities and the first choice for VIP red-carpet events around the world. Usher has been spotted in Louis Leeman stud embellished slippers, while 50 Cent was snapped wearing the brand's cappuccino leather sneakers with golden cap toe. Lewis Hamilton has been photographed in Louis Leeman black leather oxfords, and Tinie Tempah was happy to be seen in the patent leather slippers with soutache.
Size guide
To ensure a perfect fit, check with your supplier for any details you need on the sizing of your Louis Leeman footwear.
Similar brands
LACOSTE: Relaxed elegance from the brand founded by the sporting legend, inventor, and entrepreneur who defined the phrase.
MORESCHI: Super-luxury footwear for the highly sophisticated gentleman who insists on only the best.
PAUL SMITH: Classic with a twist. Paul Smith footwear combines tradition with irresistibly stylish modernity.
PIKOLINOS: Meticulous and painstaking craftmanship is fused with relaxed and seasonal designs from the Spanish label.
TOD'S: Hand-crafted by Italian artisans, the Tod's footwear selection is based on traditional values and techniques from nearly a hundred years of experience in the industry.