The continually evolving story of Dior Homme is now on the brink of an exciting new phase under the helm of artistic director Kim Jones. Previously known over the last decade for refreshingly masculine pieces rooted in rock and glam, Kim Jones is keen to retain the power of strong male persona, but is steering the brand into a new era of sporty sophistication and refined elegance. Reflective Canvas and Mesh trainers, oversized sneakers and Hardior slides form part of the new footwear collection.
Dior Homme is the menswear label of Christian Dior.
Karl Lagerfeld lost 90 pounds to fit into Homme suits.
Famous fans include Mick Jagger and Brad Pitt.
The brand has often been inspired by rock influences.
Kim Jones is the new creative director of Dior Homme.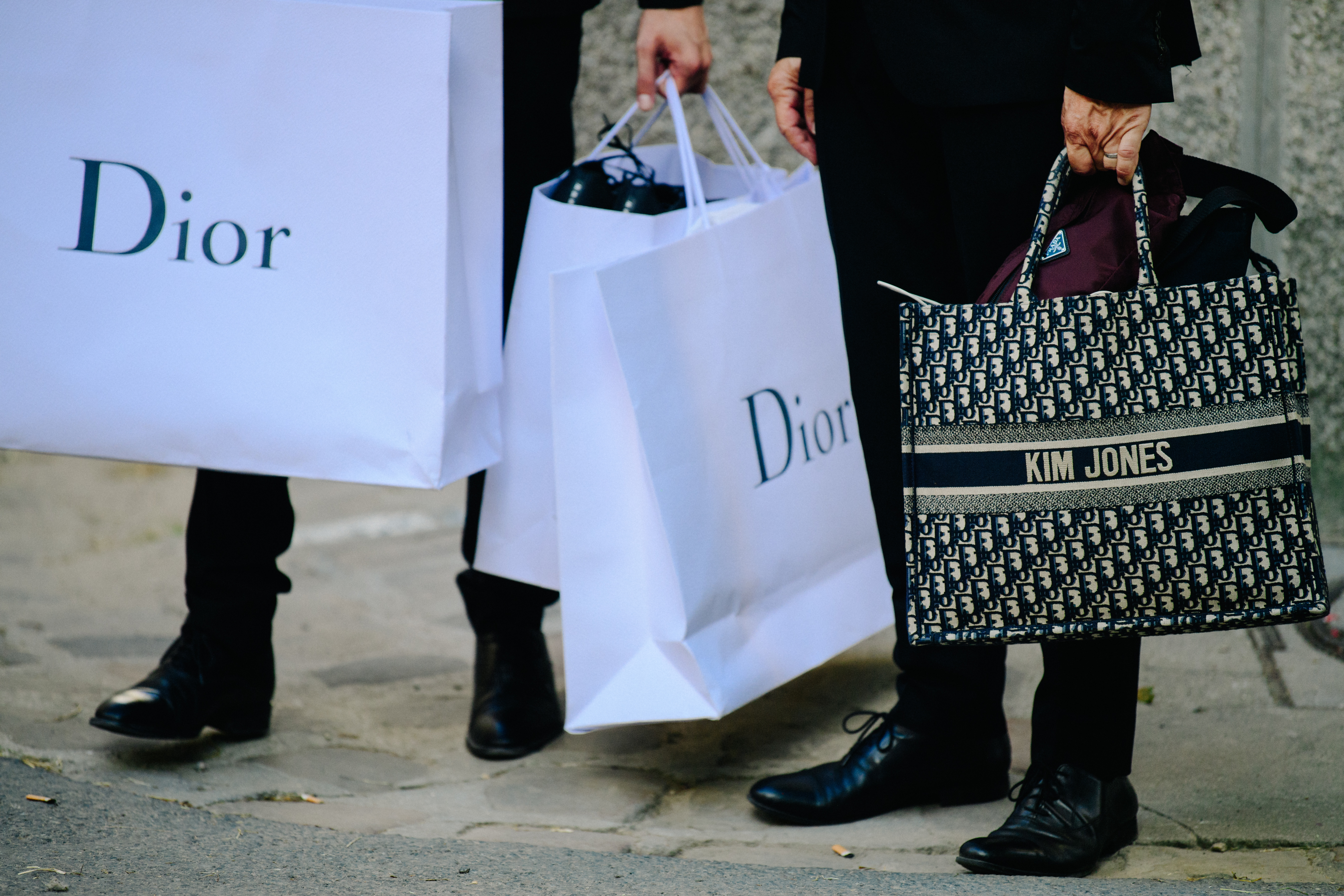 History of Mens Dior Homme Shoes
Iconic fashion designer Christian Dior first launched a dedicated menswear line under his own name in 1954. The range later evolved into Christian Dior Monsieur in 1970 under the guiding hand of Marc Bohan, but it wasn't until the year 2000 that Heidi Slimane famously took control of the menswear line and Dior Homme was born. In earlier years, Christian Dior's menswear lines had often been criticized for not being particularly masculine, with the 1966 fragrance Eau Sauvage singled out as the only remotely 'macho' choice in the entire collection. The Dior Homme range changed that perception, focusing for the first time on a more powerful vision of male glamour, often influenced by rock n roll styles and Berlin's electroscene. Developing into a popular choice for rock stars and fashion icons from Mick Jagger to Kanye West, Dior Homme even inspired designer Karl Lagerfeld to dramatically lose weight in order to fit into Dior Homme suits, prompting him to write a book about the experience. Now under the new direction of artistic director Kim Jones, Dior Homme is at the beginning of a bold new chapter which is already eagerly anticipated by keen followers of the fashion industry.
Current shoe collections
REFLECTIVE CANVAS AND MESH TRAINERS: A new sporty vibe from the Christian Dior menswear line, with stamped rubberised tongue panel and leather trims.
BLACK HARDIOR SLIDES: Stylish slip-on sandals with rubberized stamping and moulded rubber footbed.
WHITE B01 SNEAKERS: Minimalist design crafted from smooth calfskin leather with perforated stripes for breathability.
B22 OVERSIZED SNEAKER: The new force in high-quality sneakers continue their dominance of the industry with these celebrity-endorsed silhouettes featuring calfskin leather uppers and mesh underlays.
BLACK LACE-UP SHOES: Crafted from supple leather with smooth varnished effect, these gorgeous shoes exude sophistication and high-class style.
Famous people wearing Dior Homme Shoes
The Dior Homme B22 sneaker seems to be a particular favorite on the rap scene, with Big Sean, A$AP Rocky and Future all having been snapped in a pair. Formula One World Champion Lewis Hamilton was spotted walking his dog on the streets of Paris in a pair of Dior Homme black leather Oxfords, while Ben Affleck was recently enjoying a coffee moment in Los Angeles wearing Dior Homme lace-up low-top sneakers. Other devoted followers of the brand include David Beckham, Jude Law, Robbie Williams and Jay-Z.
Size guide
| French | Italian | USA | UK |
| --- | --- | --- | --- |
| 39 | 38 | 7 | 6 |
| 40 | 39 | 7 | 6.5 |
| 41 | 40 | 8 | 7.5 |
| 42 | 41 | 8.5 | 8 |
| 43 | 42 | 9.5 | 9 |
| 44 | 43 | 10 | 9.5 |
| 45 | 44 | 11 | 10.5 |
| 46 | 45 | 11.5 | 11 |
Similar brands
BURBERRY: As worn by the royal family and the most famous world-changing names in history.
KICKERS: Inventors of the 'Jean Boot' and architects of the Kickers craze that swept Europe are back with new urban collections.
EA7: Ultra-responsiveness and dreamy lightness in the new sophisticated sport lines from Emporio Armani.
FITFLOP: The innovative technology behind FifFlops helps to ease underfoot pressure, absorb shock, and tone your legs.
CESARE PACIOTTI: The small local Italian business with a 70-year history is now a global sensation but still prides itself on the authentic 'Made in Italy' ethos.