Over the years, French label A.P.C. has become widely known for producing simple, minimalist fashion collections for the quietly and confidently cool consumer. It's a look and style that has won applause from some of the biggest fashion icons of today, including Kanye West, Jarvis Cocker and Catherine Deneuve. One of the company's signature footwear products is the range of new A.P.C. sneakers, produced from technical reflective materials and striking a new balance between super-comfortable sportwear and smooth fashion.
A.P.C stands for Atelier de Production et de Création.
Touitou was awarded the ANDAM Fashion Awards Fellowship in 1992.
He has collaborated with Kanye West and Nike.
The brand refuses to 'gift' clothes to celebrities.
Fans include Jarvis Cocker and LeBron James.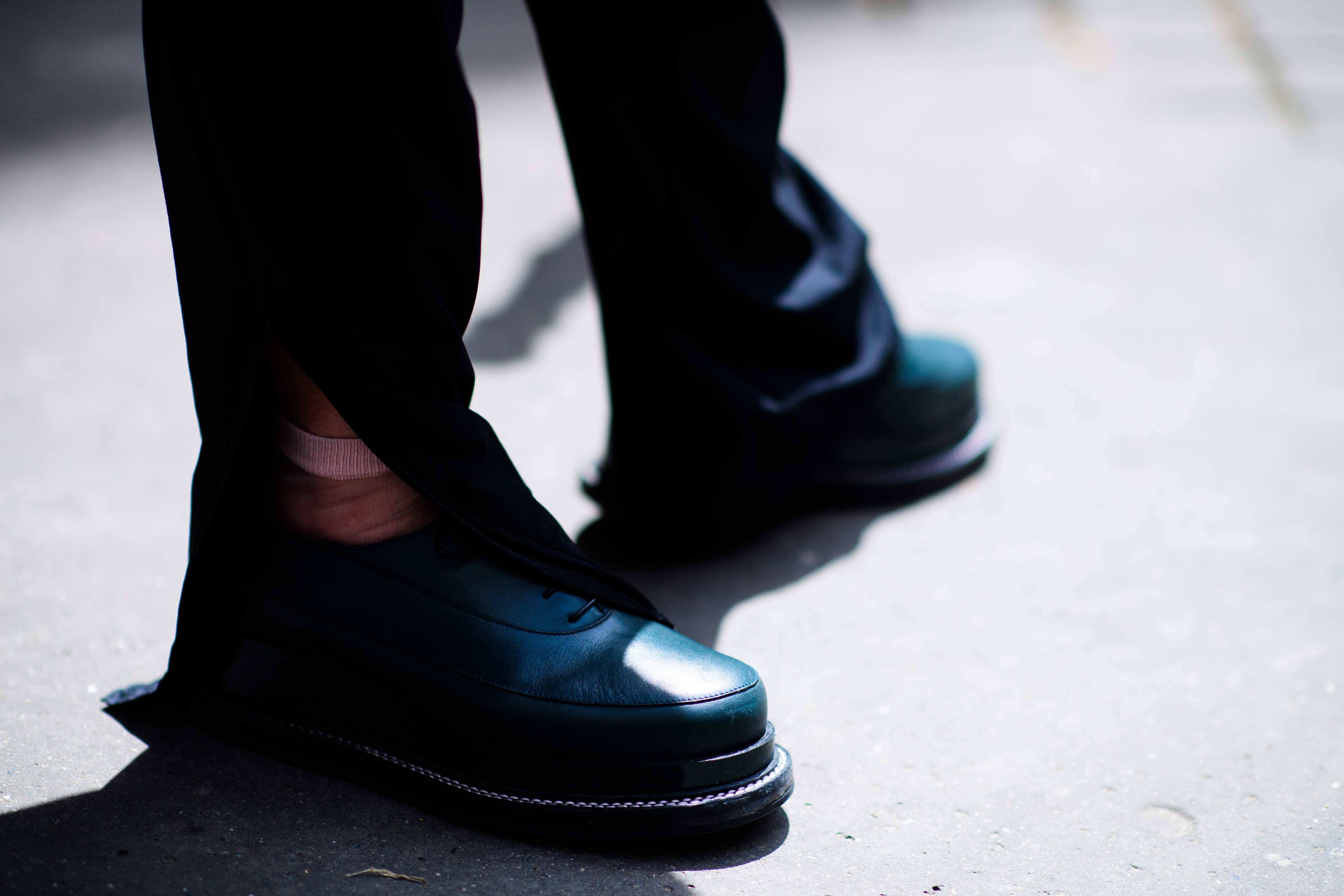 History of Mens APC Shoes
The Tunisian-French designer Jean Touitou was born in 1951 in Tunisia, moving to Paris as a young child where he later earned a history degree at the Sorbonne University. Selling records for a while through his 'Road Runner' mail order record shop, Touitou claims that he pretty much fell into the world of fashion by accident when he got offered a level-entry job at French luxury fashion house Kenzo in 1975 and moved his way up the creative ladder. Touitou launched his own fashion label A.P.C. in 1987, but during the early years when the business was struggling to make a profit, he worked as an in-demand 'ghost designer' for other top brands including Jospeh. A.P.C. began to take off in the 1990s, gaining a reputation for minimalist no-nonsense clothing and footwear that hits all the style targets without making a dramatic fuss. A.P.C. now collaborates with top brands and names such as Kanye West, Nike and Supreme, with stores opening up in Berlin, London, Los Angeles, Tokyo and beyond.
Current shoe collections
WHITE JEAN TENNIS SNEAKER: Simple sophistication from the leaders in refined sporty elegance.
TIMOTHE SUEDE BOOTS: Camel boots displaying the quietly cool approach of A.P.C, crafted from soft suede with strong grip.
RUNNING TECHNICAL-CANVAS SNEAKERS: A new take from A.P.C on a traditional favorite, produced from supple suede and reflective accents.
GUSTAVE DERBY SHOES: Crafted from smooth leather, the A.P.C. derby shoe strips back the fuss to cook up a stylish silhouette in classic black.
BROWN COLAS SANDAL: A seasonal step into luxury with suede trims and cowhide leather uppers.
Famous people wearing APC Shoes
A.P.C. is a brand adored by the effortlessly cool stars such as Jarvis Cocker, Wes Anderson, Keira Knightley, Kid Cudi and fashion icon Alexa Chung. Kirsten Dunst was recently snapped out and about in a pair of A.P.C sandals, while Zac Efron has been spotted several times wearing A.P.C. including recent trips to the gas station and romantic dates at the cinema.
Similar brands
FEAR OF GOD: Fusing urban-cool fashion with symbolic religious influences.
JIMMY CHOO: Jimmy Choo is the very definition of luxury high-end footwear.
KARHU: Leading the way in sport shoes innovation for over a century.
SANTONI: Handmade excellence from the finest Italian shoemakers.
TOM FORD: Daring and provocative designs from the visionary footwear creator Tom Ford.