Collection
Holiday Gift Boutique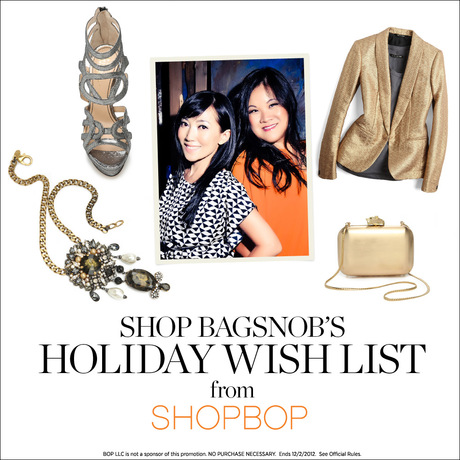 Comments
Carla Bast

O...M...fashionable G !!! só glad to be in! ♥ thnks you guys for this amazing contest! xx

Mary Stovall

I want to live & love with any one of these bags!

faithj

Thanks for the chance to win, Shopbop + BagSnob = Style Heaven!

trensetter

Omg,love the Guiseppe wedge !shop bop make me be winner .

screamdr2

Wow amazing things going on at ShopBop, beauttiful bags,contest, what better way to end 2012 Smhhh!!!

Nicole Ordonez

Thanks so much for the chance! I'd love to treat myself as well as my Mom & Sister with some awesome gifts. ;)

Manners and Moxie

To Shopbop or not Shopbop... There is NO question! Great collection. Fingers crossed!

LOVESLAGUNA

SHOPBOP IS MY WEEKLY GO-TO ONLINE BOUTIQUE! HELMUT,MQ,VELVET, ERICKSON BEAMON,MILLY, ALICE&OLIVIA, THAKOON...& THE LIST GOES ON!! xoxo!

Aileen Elwee

If your not in you can't WIN!!!! Up Ireland!!!!

natalya

Could definitely do some damage with $2K!

lolalina

Love the accessories Shopbop!!!

trensetter

Shopbop like cup of coffee for me .wake up in the A.m got to go online

Kim Danielle

Pretty Please let me win! Every single Item rocks!!!

onlyme3074

♥ Love it!! ♥ What a generous giveaway!Thanks for the chance! :)

kfloveinme

I think I would pass out if i win. I've haven't shopped since April. It's time for new clothes and accessories!

LOVESLAGUNA

ONE BY PEPPERCOTTON! AMAZING FALL/DARK COLLECTION!

Mary Stovall

This Collection would make fantastic Christmas & birthday gifts!

or to add a comment.
More
≈ Sorry, there are no matching products.