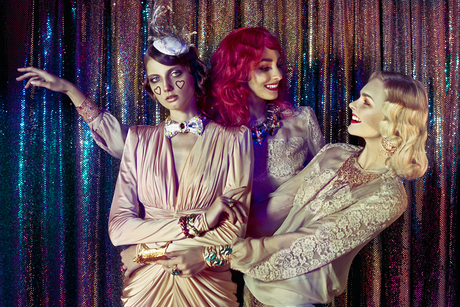 Comments
Beatrizhr

I enjoy shopping luxury clothes, accessories and shoes!! I'll be happy winning this great competition :)

anetxukrakechup

I have entered the competition. Your blog is great! :) Keep doing it this well! Greetings from Europe!

martiifashionvictim

I participated in the contest, but if I win I would not know what to choose :) Fingers crossed!!!

helena

I´ve just entered the competition. Want to win so baaaaadly:-)

mimmi

Your blog is so inspiring and this competition is great! :)

simabima

entered the 2.5 k competition, it's too good to pass up! There is so much selection on this site, I don't even know where to begin!!

giady759

Wonderful opportunity! If I win I do not know where to start! i hope! I love Luisa Via Roma :)

reets

In it to win it! Here's hoping for some blingmas treats!!

sylwia1797

I hope I will win::) thanks for the comprtition:)

evietje

I've been in the Luisa Via Roma boutique and saw so many beautiful clothes,...I hope I will win and I can buy something this time! Great competition.

vanillascent

Thank you, Jules! For being so inspiring and giving everybody the chance to GLOW! :)

LauraBanas

Thanks Jules for posting this amazing contest! I stumbled upon your blog about a month ago and have been obsessed ever since!

Mias Ward

Thank you Jules! Perfect gift for the holidays :)

momina

thank you so much! love that shop and your blog! good luck with your career

Thalia Reyes

Hi gorgeous Latina! I love you. This giveaway is amazing:)

laura

love all!!! i will be happy winning this fantastic competition...thanks jules!

innansharapova

just entered the giveaway! thank you for the opportunity, Jules! xx

kbs

Entered the competition! :) Thanks Jules

pampam90

I love this!! Hope I win. Thanks Jules!

Tequetta Jefferson

I just entered to win and hope I do as I see some very nice items I am in need of! I check your blog everyday!

ezak

So fun! Love these clothes- hoping for some serious good luck!!

veravk

Super competition! Thanks Jules! Hope I win!!!

christinnguyen

Talk about generosity when it comes to the holiday season! This a great competition. Luisa Via Roma and Sincerely, Jules are both fantastic! Fingers crossed.

majas

Jules I entered aswell !

lfarrell82

Fingers crossed and praying, this would be wonderful

Orquid Acevedo

I've entered and will be keeping my fingers crossed :-)

saramweber

What an incredible collection! Would LOVE to win. Thank you Jules!

dixonlea

Hope to win! So I can rock out like JULES!

hmparkk

This is great! Thanks Jules (;

sonit

Great blog, and fantastic competition. Thank's Jules.

mirentxu

I entered too! Hope I win! I love everything!!

jackii2

I just entered! I recently found your blog and absolutely love your style! Hoping to win :)

Catalina Rivera

Just entered! love your blog and your style and that's why I'm here!

msw7241

Just entered. Thanks Jules! Fingers crossed!

vicks5

Thank you so much! Hoping to win...;-))

gabi123

I just entered.Grateful for jules who offers such a great opportunity right before the holidays.There is so many gorgeous things on here,I dont know where to begin.Sending kisses from Italy <3

foxie

Thank you Jules!! Just entered and wanna win soooo much!!! Can't wait!!!

leyla

thank you for the opportunity

niks84

Pleeeeaaassseee pick me!!

Mary Stovall

Jules, this is a great opportunity for 'us all'! I hope you'll be able to "pick me"!!

Mary Stovall

I've entered & I love the "collection" of all I picked! This would be a wonderful win..after my heart surgery!!

Mary Stovall

Jules..You've a wonderful blog & a fabulous Collection too. That is why I' here!!

vih

Thank you!!! Happy Holidays!!!

Sho Rina

thank you n Merry Christmas to all!

marnold

In love with those Charlotte Olympia pumps! Entered and sent to all of my family and friends spreading the Christmas love!

mvu

Entered! what a fab site discovery! thank you!!!

clynas

Just entered! :) Thanks Jules!

Stef Nie

there's santa, the christkind and jules!!! xoox

camcam

Christmas before christmas! thanks for the opportunity ! fingers crossed :)

ClaudsLove

Hope to win!!! Great Experience and opportunity to learn more about fashion =)

jcarlson22

Awesome contest, just entered, thanks Jules!

alexa88

Thanks for the tip Jules!As everyone else hope to win:) lots of beautiful things on my wishlist!

noellerusso1

Love your style as well as your generosity! I've entered to win...fingers crossed:-)!

janja87

Just entered! You're the one Jules!

Aminee

<3 <3 I am the winner and I am gonna take it all! <3 <3 fashion

chattaa

Just entered! Happy holidays to all! :)

honbomb

GOOD LUCK TO EVERYONE OF YOU!

nessarielle96

this is a really awesome oppurtunity! thank you jules :) happy holidays to jules,LYST, and to everyone that entered!

Whittyyy

This would be amazing to win! Thanks Jules and Luisa Via Roma! Good Luck to everyone.

lisasaia

i hope i win!! :) thanks jules for the heads up!

badgirlke

ive entered for a chance to win, thanks Jules Xoxo

Mary Stovall

I have entered for a chance to win! Thanks Jules <3

aigerim0307

Thanks Jules and Luisa Via Roma for this great competition!

carafoodie

just entered. im in love with everything on here!x

or to add a comment.
More
≈ Sorry, there are no matching products.