Orange Caribe Detail Triangle Top Bottom
We checked 451 retailers, this item is sold out.
Try these instead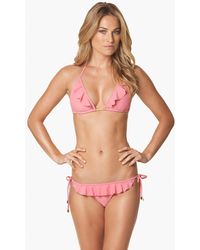 Not what you're looking for?
More Product Details
Matching detail bottom features: gold vintage link accents at each hip. Small gold vix cutout logo sewn on back. Offered in brasilian & full cut. Brasilian bottom features slight ruching at the top of the rear. Lycra® blend.